The video we just can't stop watching!

Videos going viral is nothing new; most will remember 'Charlie bit my finger', 'Fenton' or 'Star Wars kid'.
However, perhaps the one video most did not expect to be a hit around the world was 'The Classic Tetris World Championship Final' (yes, there's a Tetris World Championship).
I'll set the scene.
Joseph Saelee, just 16 years old and a huge underdog, was facing 7 times World Champion Jonas Neubauer. Nobody gave him a chance.
After 26 minutes of playing, Neubauer, as expected, takes the lead. However, after a rare mistake, he crashes out.
Saelee needs another 108,120 points to win…just 3 Tetris' will do it. He holds his nerve and with lightning fast reactions, upsets the odds and takes the title.
The skill of the players is remarkable, I mean truly remarkable.
See the video for yourself, nearly 7 million others have watched it, you won't be disappointed:
What's so interesting is that when I showed this to some of my colleagues in the office they were initially not at all interested…30 seconds in they were hooked!
They loved the fact that such an old game, invented by a Russian back in 1984, was still so popular today and they couldn't believe that the players were using an actual Nintendo Entertainment System from 1983.
One said, "I love how retro it is!" and I couldn't agree more.
Retro has made a comeback and in a big way. In particular retro arcade games.
Our Space Invaders coin, that we launched last month, SOLD OUT in record time. Had we been able to source more, it would have sold double!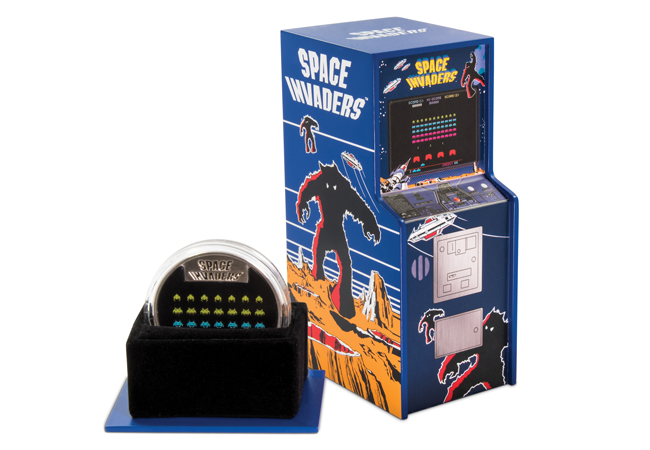 It proved how incredibly collectable retro themed coins are, especially when their box is a replica of the original gaming machines.
The Official Tetris Silver Coin has just been released worldwide. If retro is your thing, I'd suggest snapping one up quickly.
---
If you're interested

Issued in 1oz .999 Silver, to celebrate the 35th Anniversary of Tetris, the coin features the Tetris games icon Tetriminos on a chequered, Proof background, and appears as if the blocks are falling, much like in the game itself. Click here to secure yours>>