A timeline of Great Ormond Street Hospital's cancer breakthroughs
Great Ormond Street Hospital (GOSH) is celebrating its 170th anniversary in 2022, marking almost two centuries of transforming the lives of seriously ill children.
And as part of our campaign to raise £30,000 in 30 days for Great Ormond Street Hospital Children's Charity (GOSH Charity) we're looking back at some of the hospital's cancer breakthroughs.
From developing nursing training in the late 19th century and the opening of the UK's first Leukaemia Research Unit in the 1960s, through to today's breakthroughs in gene therapy and its pivotal role in the national management of COVID-19, GOSH has been a trailblazer in child healthcare.
Take a look at some pivotal moments throughout the hospital's history below: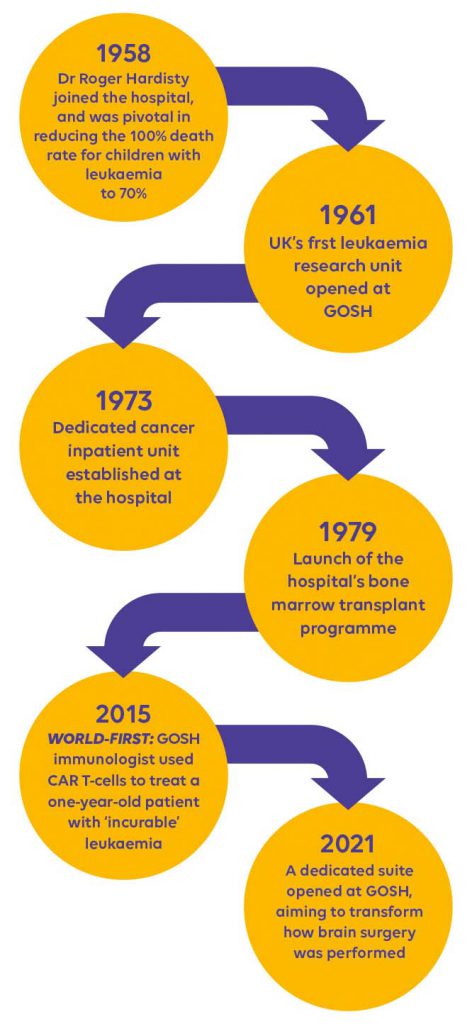 1958
Dr Roger Hardisty joined the hospital, where he became a driving force behind remarkable changes in children's cancer care. In his three decades at the hospital, he was pivotal in reducing the devastating 100 per cent death rate for children with leukaemia to 70 per cent.
1961
The UK's first leukaemia research unit opened at Great Ormond Street Hospital.
1970s
Some of the hospital's early research efforts were starting to show real reward. Chemotherapy was improving. Surgical techniques were becoming safer. Microscopic and genetic research techniques were becoming more sophisticated, allowing researchers to better identify the many different types of cancer, as well as beginning to understand how each would respond to different treatments. A 1971 study showed that long-term survival for children with acute leukaemia had trebled since 1963.
1973
Dedicated cancer inpatient unit established at GOSH.
1977
Hospital consultants set up the first UK-wide Children's Cancer Study Group to promote research.
1979
Launch of the hospital's bone marrow transplant programme. GOSH Immunologist Professor Roland Levinsky developed a technique to isolate immune cells in the blood. This made it possible to extract working immune cells from a healthy donor and transplant them into a child – known as a bone marrow transplant. The idea was to replace cancerous blood cells with healthy ones.

1999
Dr Paul Veys developed a kinder bone marrow transplant that is gentler, with less intense chemotherapy and can help children who are too sick for standard doses of drugs.
2013
Launch of one of the first European CAR T-cell studies, pioneered by Professor Persis Amrolia. It paved the way in this rapidly emerging field, but this type of CAR T-cells have now been superceded by 'next generation' cells that are more effective.
2015
GOSH immunologist Professor Waseem Qasim used CAR T-cells to treat a one-year-old patient with 'incurable' leukaemia. His incredible world-first sparked a new wave of CAR T-cell research around the world.
2018
An 11-year-old boy at GOSH became the first NHS patient to receive CAR T-cell therapy. A landmark agreement between NHS England and the drug manufacturer meant the drug (Kymriah) can now be offered to eligible NHS patients with relapsed ALL.
2019
Results of the CARPALL clinical trial at GOSH suggested that a new CAR T-cell therapy has less side effects and could be more effective at treating 'incurable' ALL than similar treatments.
2021
The Khoo Teck Puat iMRI Suite opened at GOSH. The suite promises to transform how brain surgery is performed at GOSH by enabling brain scans to be taken seamlessly during operations.
---
Imagine how much further GOSH can go in the future with your support. You can help GOSH continue to forge ahead with pioneering breakthroughs, bringing millions of seriously ill children life-altering treatments and cures for generations to come.
Want to help us raise £30,000 in 30 days for Great Ormond Street Hospital Children's Charity (GOSH Charity)? View our range of special colour edition Peter Pan 50ps here.