RELEASED TODAY: OFFICIAL UK STAR WARS™ 50ps 
The first UK Star WarsTM coin collection has been released today to celebrate 40 years since the release of Return of the Jedi in 1983.
The Star Wars franchise is a worldwide phenomenon, and despite being the brainchild of American movie maker, George Lucas, the Star Wars franchise has many links to British Heritage and the United Kingdom.
The coins have been specially produced in partnership with The Royal Mint, Walt Disney Company and Lucasfilm to create something extremely special for Star Wars' fans and coin collectors alike.
The first design features none other than R2-D2TM and C-3POTM, with both characters inside the Millennium Falcon, the famous starship that has played a role in some of the greatest victories of the Rebel Alliance and the New Republic.
R2-D2TM and C-3POTM are the first to feature on the four-coin collection, with the other coins in the series also including other iconic duos including, Darth VaderTM and Emperor PalpetineTM, Luke SkywalkerTM and Princess LeiaTM, and Han SoloTM and ChewbaccaTM all with stunning designs that capture the true essence of the films.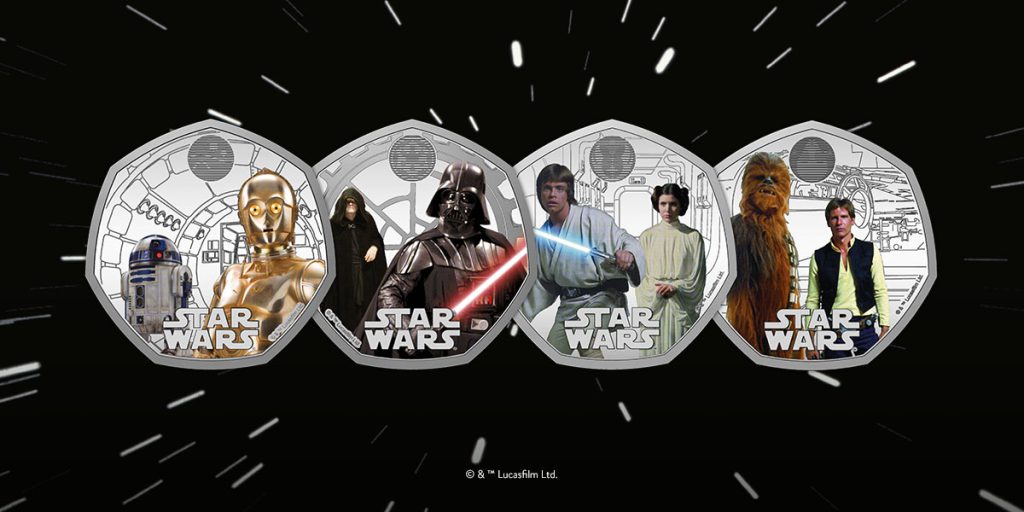 Each coin is available in superior Brilliant Uncirculated Quality, or strictly limited Silver Proof Quality.
But it is the Silver coin that is especially unique, featuring the addition of vivid colour. This is a process that allows George Lucas' iconic duos to be faithfully reproduced as accurately as possible.
What's more, the silver coin has been limited to just 12,500 worldwide. When you consider the number of coin collectors who will want this 50p coin, alongside the number of Star Wars fans that will too, demand will likely exceed availability.
Finally, each of the coins in the series also has an intricate detail you may have missed – a lenticular feature. When the coin is tilted, two intricate symbols are revealed for Tatooine and the Rebel Alliance Starbird. Not only does this enhance the design, but it is also a favourite amongst coin collectors.
Whether you choose the Brilliant Uncirculated coins, or the Silver Proof version, rest assured all coins have been beautifully packaged as the perfect piece of memorabilia.
__________________________________________________________________________________
By opting into the Westminster Collection Star Wars Priority Lists, you can automatically receive the next coins in the series without the hassle!
Click here to secure the Silver Proof 50p coins >>