Posts Tagged 'Bumblebee and Bloom coin'
Innovation is nothing new to The Royal Canadian Mint. Whether it be a shape, size or never before-seen technology, the Mint are always looking for ways to push the limits on what can be achieved next in the minting world.
And, over the last few years, the results have been some of the world's most stunning, technologically advanced coins, with sell-outs almost guaranteed.
So, you can imagine the excitement of collectors from all over the world when the latest interactive coin from Royal Canadian Mint was released earlier this month…
The Hummingbird and Bloom 5oz Pure Silver Coin
This stunning BRAND NEW release features something that has been highly revered by collectors since it was first seen back in 2018…
But when is a coin not just coin? When it's also an interactive Bloom with a moving Hummingbird – miniaturised of course!
The cutting edge gyroscopic technology used to bring this coin to life truly is outstanding as it has allowed the coin to become interactive. Whilst the coin is encapsulated inside its protective case, the Hummingbird elegantly hovers around a gorgeous Zinnia Bloom, much like it does in the wild.
Unfortunately, images can only go some way towards showing the glory of this coin, so I ask you, in fact I implore you, to please take some time to look at the below video to truly appreciate its beauty:
It is so visually impressive that words will never be able to do it justice. Nothing can compare to holding the coin struck from a full 5oz of Fine Silver in your hand and feeling the groundbreaking gyroscopic technology elegantly move a 24ct Gold-plated Hummingbird around a Rose-gold Zinnia.
It is this bloom that is even more impressive than the Royal Canadian Mints predecessors – utilizing 24ct Rose-Gold to show off the Zinnia's tear-drop petals and contrast the Proof Silver base that features even more blooms.
In 2018, the first coin to use this technology was released, and to say it was popular would be an understatement. Featuring a Bumblebee [Link to Bumble Bee blog 'Coin of 2018'] hovering around a flower, it was voted Collector's Gallery favourite coin of 2018. The coin was a world FIRST and completely SOLD-OUT within a matter of weeks at the Mint. And the same can be said for the second coin in the series, the Christmas Tree and Train,[Link to blog] which featured a classic train running the circumference of a Christmas Tree but completely SOLD-OUT before the official release date..
Not only are these sell-outs attributed to the quality, craftsmanship and uniqueness of these coins, but also to the extremely low edition limits. The BRAND NEW Hummingbird and Bloom interactive coins are strictly limited to just 1,250 collectors worldwide. When you consider the sell-out successes of the previous coins and the collectors who will want to be at the forefront in owning this enchanting new coin, demand has already proven to exceed availability.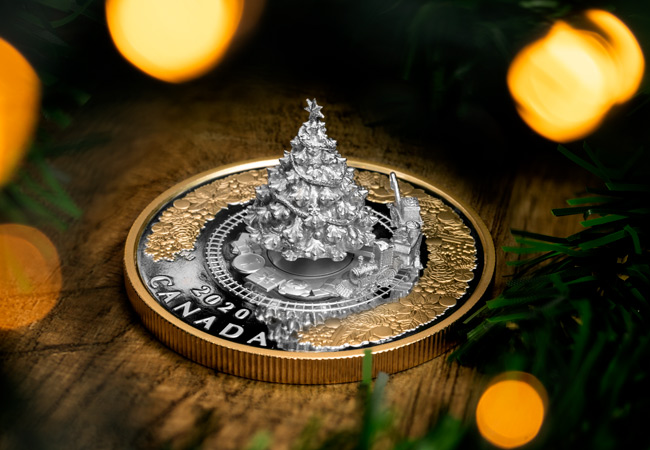 This Brand New Hummingbird and Bloom Silver 5oz Coin magnificently merges art and technology; engraving and casting; silver and gold. You really do need to see it first hand to fully appreciate all the stand-out features. It's an outstanding work of art that is visually spectacular, words will never be able to do it justice.
It is safe to say, we don't expect these coins to be around for much longer. The coins completely SOLD OUT at the mint within hours of release and we have JUST 5 coins remaining.
---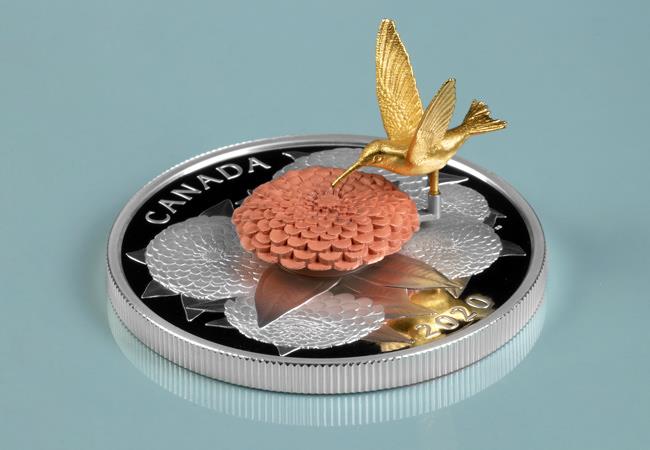 If you're interested…
If you wish to secure The Hummingbird and Bloom Interactive Silver Proof 5oz coin, please click here >>