Posts Tagged 'Gruffalo coin'
Last month we heard through the whispers of the forest that the UK's favourite orange-eyed and purple-prickled creature is returning!
And now the critters have informed us that he will be emerging from the deep dark wood on 17th October!
Our woodland sources also confirm he will be proudly featuring on a BRAND NEW 50p coin.
So if you want to be kept up to date, and be the first to know when the new Gruffalo 50p is available on 17th October, and what coins are available, just register your interest below.
Whilst we're counting down til' launch, let's have a look at what happened the last time The Gruffalo was spotted in the wild…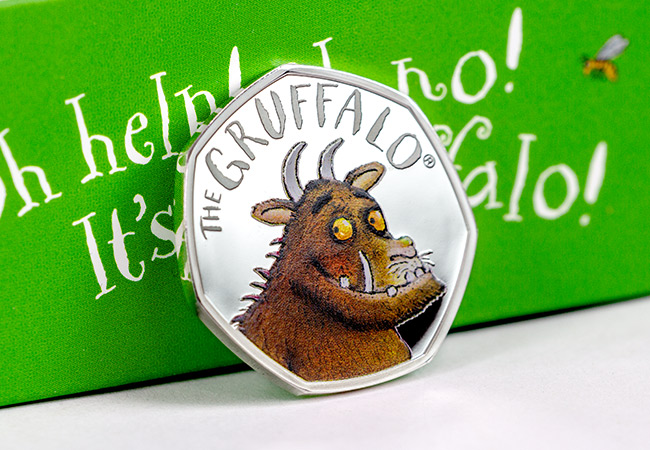 On the 23rd March The Gruffalo celebrated its 20th birthday, and to mark this landmark publication anniversary a brand new UK 50p was released. This was the first time ever the popular children's book character had appeared on UK coinage.
Since its first publication in 1999 Julia Donaldson's famous monster has become a firm family favourite. Alongside the charming illustrations by Axel Scheffler, the now iconic story has been translated into 76 languages, sold over 13 million copies and graced TV screens in 2009 as an animation, the same year it was voted the UK's favourite bedtime story.
To say the release was popular is an understatement, as fans and collectors alike were quick to snap up the coin. Collectors were so quick in fact that the silver and gold proof versions – with edition limits of 25,000 and 600 respectively – completely sold out at The Royal Mint within 12 hours of release.
This made it the fastest selling 50p to date!
No doubt the question on everyone's lips now is what will happen when The Gruffalo returns? Will we see history repeat itself?
There's only one way to find out – register your interest below!