The Royal Mint has just authorised for release 3 BRAND NEW UK 50ps featuring characters from the beloved children's book Winnie the Pooh, created by A.A. Milne.
This is the first time these characters have featured on a UK coin, and are the first coins in a classic 9-coin collection that will be released over 3 years.
The coins feature a nostalgic design by The Walt Disney Company that's reminiscent of the classic illustrations by E.H. Shepard which feature in the novels, and as such are sure to be adored by fans and collectors of all ages.
Take a look below at the full range available:
2020 UK CERTIFIED BU 50p
This is your chance to be ahead of the crowd and secure your 2020 Winnie the Pooh 50ps in superior Brilliant Uncirculated condition for just £4.50 (+p&p) each.
Each coin will come protectively encapsulated in Official Change Checker packaging to ensure that their superior quality is preserved forever.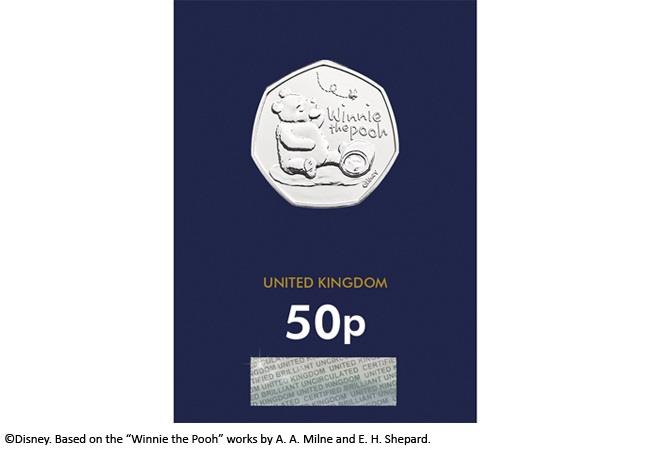 Click here to order the UK 2020 Winnie the Pooh CERTIFIED BU 50p now >>
Click here to order the UK 2020 Christopher Robin CERTIFIED BU 50p now >>
Click here to order the UK 2020 Piglet CERTIFIED BU 50p now >>
Official Royal Mint Brilliant Uncirculated Coin Pack
Each coin has been struck to Brilliant Uncirculated quality, so you know they will be free from any of the marks or blemishes you would find on coins in your change. They each come beautifully presented in bespoke packaging from The Royal Mint that is Winnie the Pooh themed, and are each available at The Royal Mint issue price of JUST £10 (+p&p).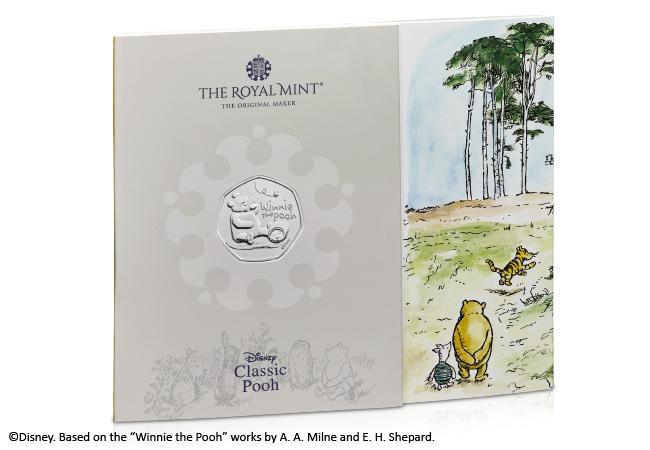 Click here to order the UK 2020 Winnie the Pooh BU Pack 50p now >>
Click here to order the UK 2020 Christopher Robin BU Pack 50p now >>
Click here to order the UK 2020 Piglet BU Pack 50p now >>
Limited Edition UK 2020 Silver Proof 50p
Struck from .925 Silver to a pristine Proof finish, JUST 18,000 of each of these Silver Proof 50ps will ever be available worldwide. This small number of coins is sure to sell-out quickly. Especially as the edition limit is significantly LESS than the 25,000 edition limit of the SOLD OUT Gruffalo Silver Proof 50p.
Each coin is available today for The Royal Mint's official issue price of ONLY £67.50 (+p&p).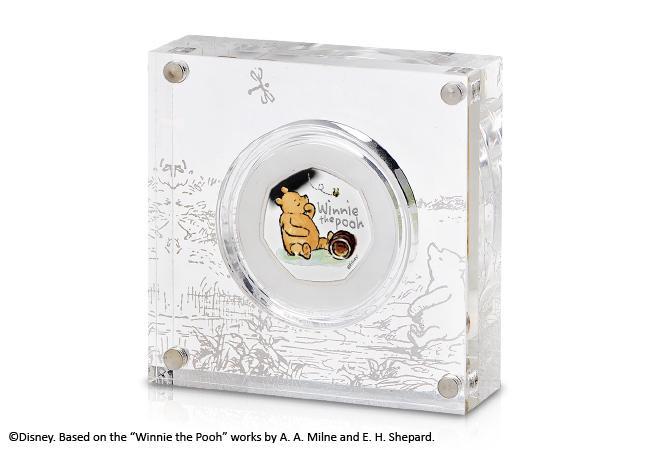 Click here to order the UK 2020 Winnie the Pooh Silver Proof 50p now >>
Click here to order the UK 2020 Christopher Robin Silver Proof 50p now >>
Click here to order the UK 2020 Piglet Silver Proof 50p now >>
Each new 50p is also available in an extremely limited Gold Proof edition. However, we have already SOLD-OUT of our full allocation of the UK 2020 Winnie the Pooh Gold Proof 50p Coin and now only limited numbers remain of the Christopher Robin and Piglet Gold Proof 50p coins. These are still available to pre-order here, but you must act now whilst stocks last.
Don't miss out on owning the new UK Winnie the Pooh, Christopher Robin and Piglet 50p coins. Click here to view the full range now >>
How would you like to WIN a Winnie the Pooh Silver Proof 50p!?
Well to celebrate the launch of the brand new Winnie the Pooh UK 50p, I'm giving THREE collectors on YouTube the chance to WIN a SILVER PROOF Winnie the Pooh 50p, that's not only LIMITED to only 18,000 worldwide, but also worth £67.50!
To be in with a chance of winning this incredible prize you'll need to be SUBSCRIBED to our YouTube channel, if you're not subscribed your entry won't be counted, and secondly you'll need to comment below the video on our YouTube channel with the correct answer to this question:
What Winnie the Pooh character is spelt out using the tiles featured in this video?
Giveaway closes: 30th September
Winners announced: 1st October
** PLEASE NOTE **
THIS IS A YOUTUBE ONLY GIVEAWAY.
CLICK HERE TO ENTER >>
---
If you're interested…

The Royal Mint have just confirmed a brand new 50p series will be launching on 23rd September featuring characters from Britain's favourite books – Winnie the Pooh!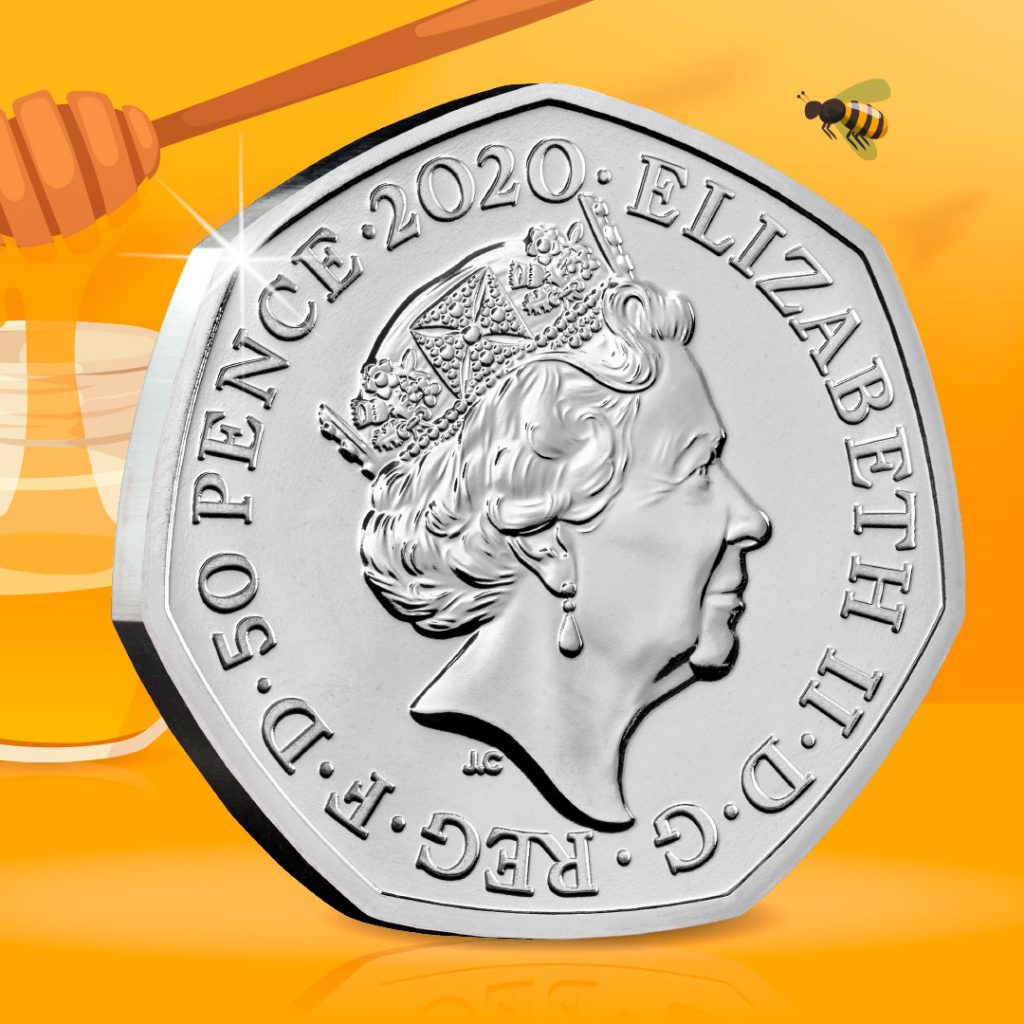 Each design has been inspired by A.A. Milne's classic children's stories starting with Pooh Bear himself and is sure to be one of the most popular coin releases this year.
Originally published in 1926, Winnie the Pooh is a story about the adventures of Christopher Robin's honey-loving teddy bear and his friends Piglet, Tigger, Eeyore, Owl, Kanger, and Rabbit.
Since then, Winnie the Pooh has featured in over 11 films, 11 television programmes, 4 different books, and has become a worldwide collectable item.
Whilst the designs of the upcoming 50p coins are currently top-secret, we can't wait to see this loveable bear and his friends come to life once more, this time on the UK's most collected coin.
But who is your favourite character? Let us know in the comments below!
And if you want to be the very first to hear of any updates, make sure you sign up at the bottom of this blog!
By signing up we'll make sure you're the first to know any updates about these new coins, including when they are launched. So what are you waiting for?