Posts Tagged 'royal mint mule'
We all have our favourite coins to collect, whether it be historic coins, special 50p designs or coins from around the world.
But one thing that piques the interest of almost all collectors, including myself, is the elusive 'error' coin.
Considering the high levels of technology involved in minting coins and the number of different quality controls in place, it is extremely rare that a coin is minted with an error. And it is even rarer for an error coin to be released to the public.
However, over the years there have been sporadic cases of error coins being struck and issued to the public. Just a few things that would be considered an error would be an off-centre strike, a crack in the die or even use of the wrong die completely!
And that last one is exactly what happened to the 2014 Year of the Horse Lunar Silver Coin when it was incorrectly struck with the distinctive denticle obverse of the 2014 Britannia coin.
After an investigation, it was discovered that approximately 38,000 Year of the Horse coins were struck with the incorrect denticled edge on the obverse. And once The Royal Mint confirmed this as a genuine error, these coins understandably became incredibly sought after.
What makes these error coins particularly desirable is that, because it was issued as a bullion coin, many were sold around the world to coin dealers and investors. That means that they are much harder for the British public to track down. Plus, of course, in terms of pure numbers struck they are considerably scarcer than previous errors such as the 'undated 20p'.
In fact, Ebay listings have seen the value of these coins soar to around 30 times their original value! So if you are lucky enough to own the 2014 Year of the Horse coin, I'd suggest you go and have a closer look at it!
---
If you're interested…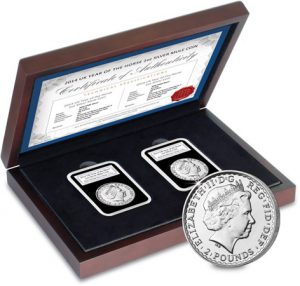 We have a small number of the 'Year of the Horse Silver Mule Sets' available to buy. This set contains the Year of the Horse error coin alongside the correct version of the coin for easy comparison. This 'mule' is an absolute must for any collection and is extremely rare, so secure yours today.