Posts Tagged 'two cent piece'
We have researched and picked out twelve of the most fascinating coins issued in the US over the past 150 years and put them together into this incredibly sought-after set, which Adam unboxes in our latest video!
---
If you're interested
Click here to own twelve of the most historic American coins in a ready-made collection >>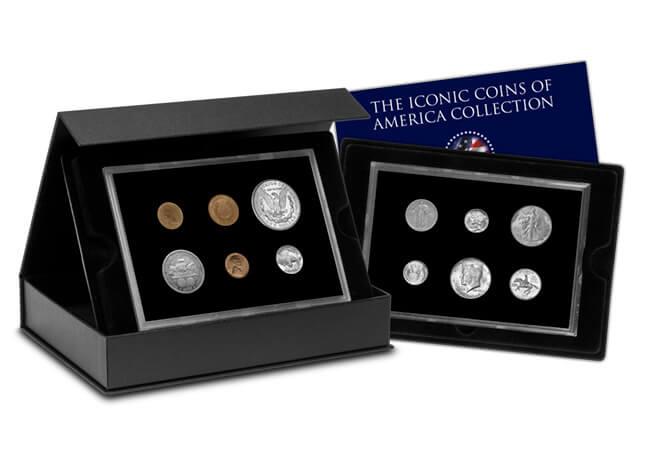 Two weeks since America went to the polls, the history of its coinage is as rich and as varied as that of its presidents. Discover why I believe these are 12 of the United States most iconic coins of the last 150 years …
1. Indian Head Cent (1859 – 1909) – the first coin of America's single currency issued surprisingly late in 1859. The cent in circulation today is still the same size and the design has only changed once in over 150 years
2. Two Cent Piece (1864 – 1873) – the first coin to bear the inscription 'In God We Trust' which became the US's official motto in 1956 and now appears on most of America's coins
3. Morgan Silver Dollar (1878 – 1921) – arguably the most famous American coin ever despite the fact it was designed by an Englishman born in Birmingham – Mr George T. Morgan
4. Columbian Half Dollar (1892 – 1893) – America's first ever commemorative coin issued to raise money for Chicago's Columbian Exposition in 1893. Design marks 400th
anniversary of Columbus' arrival in the New World in 1492
5. Lincoln Cent (1909 – 1958) – first introduced in 1909 in honour of the 100th anniversary of Lincoln's birth and became famous as the first US coin to feature a recognisable public figure
6. Buffalo Nickel (1913 – 1938) – underwent a design change in 1913 but during the Great Depression (1929-39) many coins were hoarded making them incredibly sought-after today
7. Standing Liberty Quarter (1916 – 1930) – caused outrage when it was first minted as the designer depicted an exposed breast of the Broadway actress who modelled as Lady Liberty as part of the design. Such was the uproar, the US Mint changed the design in 1917
8. Mercury Dime (1916 – 1945) – so-called because the design was mistaken for Mercury, the messenger of the Greek gods, when it was in fact a young Liberty with a winged helmet. The name has stuck in almost 100 years
9. Walking Liberty Half Dollar (1916 – 1947) – often thought of as America's most beautiful coin due to Adolph A. Weinman's exquisite design which was later used on the 'Eagle' Silver Bullion coins
10. Lincoln Steel Cent (1943 only) – to preserve Copper reserves during WWII, in 1943 the Lincoln Cent was struck in zinc-plated steel but problems such as rusting saw a return to copper the following year
11. Kennedy Half Dollar (1964 – present) – in circulation by 1964 just months after the President's assassination but the high silver content led to extensive hoarding and by 1971 was eliminated completely
12. Delaware State Quarter (1999 only) – the first in a remarkable series of coins designed to boost Americans' interest in numismatics. 'Delaware' was the first specially themed 'State' quarter and sparked the collecting phenomenon of the decade
---
Are we missing something?
Is there another American coin that you think should be part of this list?