The longest bank holiday in British history…
In August 1914, the British economy was in turmoil because of the instability brought on by the oncoming war on the continent. Bankers and politicians were desperately looking for ways to secure Britain's finances and prevent the banks from collapsing.
So to buy time to look for a solution, the government extended the national bank holiday on 3rd August to include Tuesday 4th, Wednesday 5th and Thursday 6th August – making this the longest bank holiday in British history!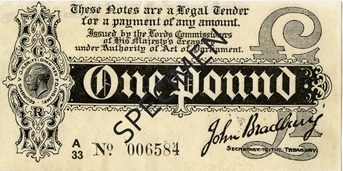 The government decided that a large supply of banknotes had to be made available for the values of £1 and 10 shillings, making it easy for the public to make small transactions and to dissuade the hoarding of precious metal coins. However, The Bank of England was not able to prepare and print the required number of notes quickly enough, so the government took the unprecedented step of deciding to issue the notes itself.
These banknotes became known as the Treasury banknotes and were unlike anything the British public had ever seen. Until this point the lowest denomination banknote was £5, and in those days this was such a large sum that many people would never have seen or used a banknote before.
That means that these Treasury notes now stand out as the first widely circulated banknotes in England.

And what's more, the Treasury notes featured a portrait of King George V. Nowadays we're used to seeing Her Majesty on our banknotes, but the Treasury notes were the first British notes to feature a portrait of the monarch. In fact, Bank of England notes would not display an image of the monarch until 1960.
Treasury notes played a vital role in keeping the economy moving during the First World War and for the first time in England and Wales, paper money became normal currency used by ordinary people.
These notes were born out of Britain's longest bank holiday and now stand as some of the most interesting banknotes in notaphily history!
---
If you're interested…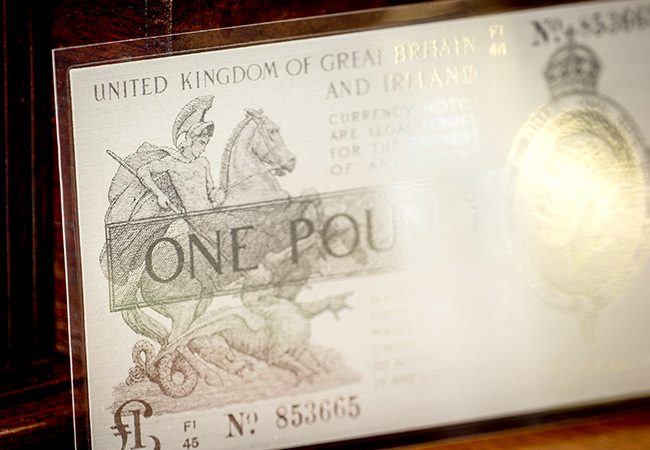 Today you have the opportunity to own a FINE SILVER reproduction of the 3rd issue Treasury Note. Act now to secure this perfect banknote commemorative.
Click here to order your FINE SILVER reproduction Treasury Note now >>>