Ready to 'tee off'? NEW The 150th Open Commemoratives released today!
In just over a week's time, The Open — the oldest golf tournament in the world — tees off. And this year, there are a couple of extra reasons to celebrate.
Firstly, this is the 150th Open Championship. The first was held way back in 1860 so this year's trophy — the famous Claret Jug — will be even more sought after amongst the players, including Rory McIroy and recent US Open winner Matt Fitzpatrick.
But it's not only the golfers who have something to aim for. Because to celebrate the 150th Open, a brand new range of commemoratives have been issued.
So, as you can imagine, with thousands of coin collectors and now thousands of UK golf fans, getting hold of one of these brand new commemoratives will be a prize in itself.
Keep on reading to find out more…
NEW Round Pound released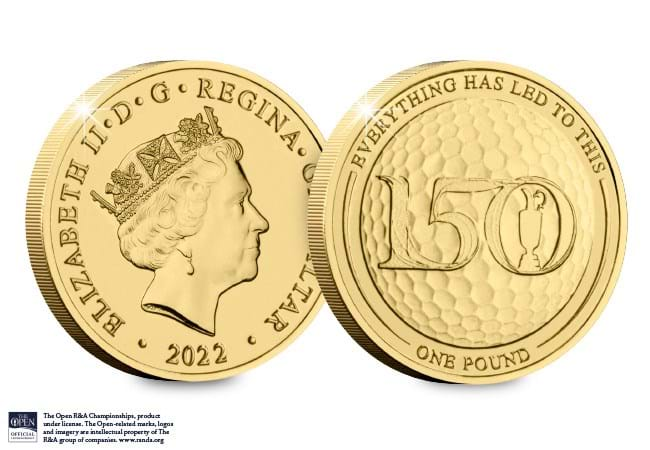 It's been 6 years since the round pounds were phased out and replaced by the new 12-sided coin, marking the end of an era for UK coinage. But today it has returned for a very special occasion.
Specially struck for 2022 only and fully approved by The R&A — the home of British Golf — this new Round Pound has been issued by the Government of Gibraltar to celebrate The 150th Open Championship.
Unlike the UK, you can still find round pounds in circulation in Gibraltar. They're used daily as part of their currency so it's not uncommon to find them in your change over there. We don't yet have confirmation on whether this coin will enter circulation in Gibraltar, but if it does — that will increase the collectability even more.
Make sure you mark this special occasion by securing your very own 'The 150th Open Gibraltar Round Pound' today for JUST £9.99 (+p&p).
The STRICTLY LIMITED Silver Proof Round Pound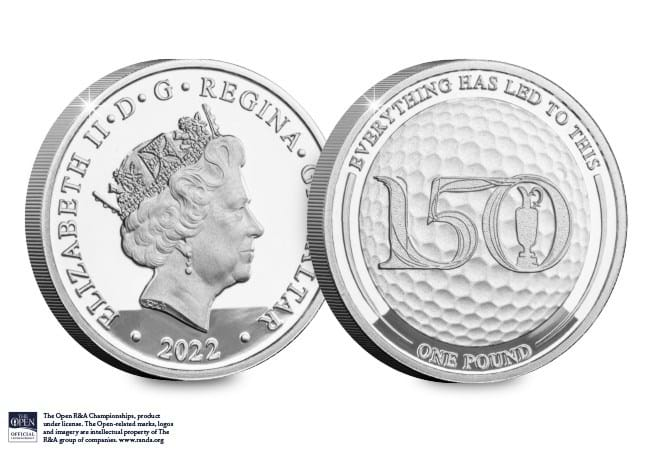 Exclusive to The Westminster Collection, The 150th Open Silver Proof Round Pound is strictly limited to JUST 500 editions.
This incredibly low edition limit makes The 150th Open Silver Proof coin 22 times RARER than the last UK Silver Proof Round Pound issued in 2016, which had a mintage of 11,000 and completely sold out at the Royal Mint.
Struck to a pristine Silver Proof finish, reservations for this striking coin are being taken on a first come first served basis.
You can secure yours today with a £16 deposit (+p&p) – Click here now >>
The 150th Open Silver 5oz Domed Commemorative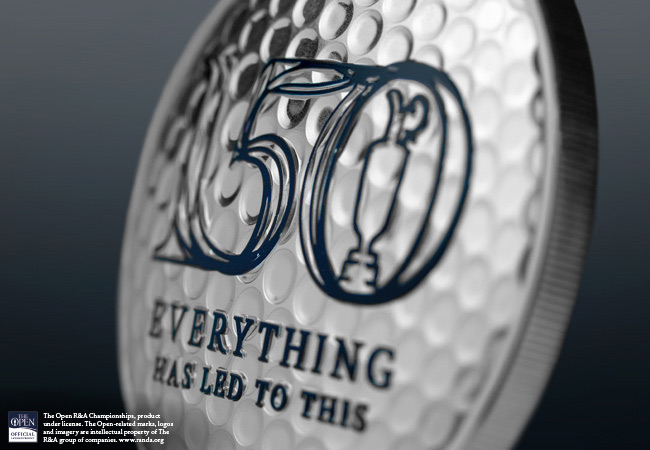 If you're looking for the ultimate collectable within the range, then look no further. We are thrilled to introduce The 150th Open Silver 5oz Domed Commemorative which is extremely limited to just 150 collectors worldwide.
This striking piece has been struck from 5oz of .999 Fine Silver and features a remarkable 3D high-relief domed effect that mimics the appearance of a golf ball.
The detailed domed relief features The 150th Open logo with the brand line 'Everything has led to this'. You really do have to see the coin in person to admire its full craftmanship.
In recent years, domed commemoratives have taken the collecting world by storm. When the US Mint released their domed coin to commemorate the 50th anniversary of the Moon landings, 296,311 sold on launch day alone — that's 206 coins a minute!
That's why only the quickest 150 collectors will be able to secure this commemorative for their collection.
If you'd like to find out more about this incredible commemorative and how you can secure yours, click here >>
NEW Coin and Stamp Cover strictly limited to JUST 495 collectors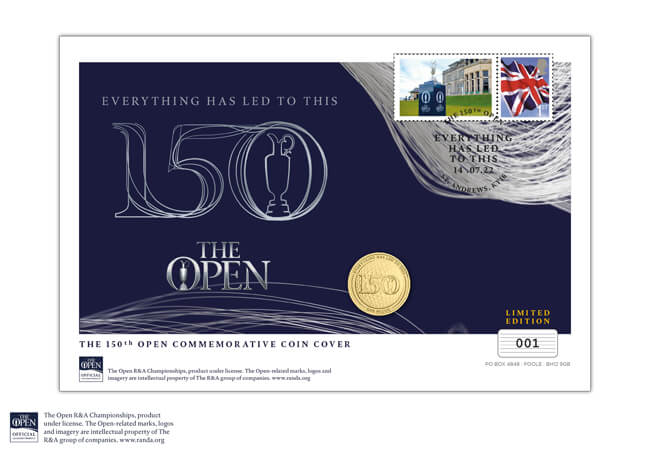 Today you can own this striking coin cover, combining the brand new Brilliant Uncirculated Round Pound alongside the Official Royal Mail The 150th Open Philatelic labels.
Officially postmarked on 14th July, 2022, this one-day-only postmarking means that no more can ever be produced after this day… and with an edition limit of JUST 495, please don't hesitate.
Click here to 'pre-order' yours >>
The 150th Open Silver Round Pound Coin Cover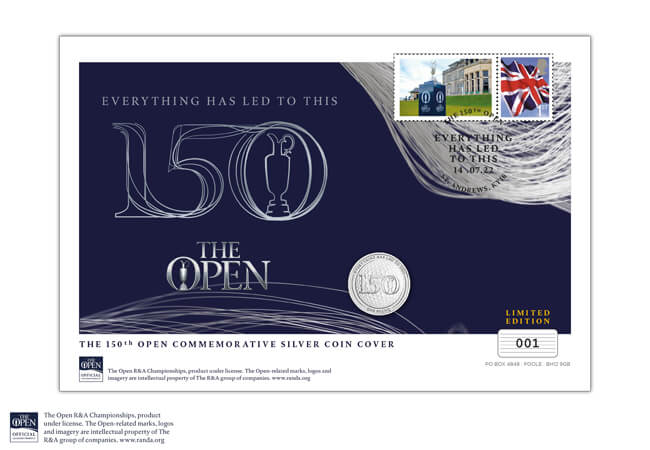 Importantly, this Edition Limit is less than HALF that of the 2022 The 150th Open Gibraltar Silver Proof £1 Coin that has just been released.
Officially postmarked on 14th July, 2022, JUST 195 Silver £1 Coin and Stamp Covers are available WORLDWIDE. Once they're all gone, no more can ever be produced.
Pre-order yours now to avoid disappointment >>
---
If you'd like to browse the full range of The 150th Open Commemoratives, click here >>