Posts Tagged 'Coin cover'
On Saturday 17th June 2023, the UK will witness King Charles III's FIRST Trooping the Colour ceremony as our monarch.

Whether you're tuning in on the television or travelling to see the spectacle in person, we can all expect to see a stunning display of military precision and horsemanship as the procession makes it way from Buckingham Palace to Horse Guards Parade.

But what exactly is Trooping the Colour, and why do we celebrate it? Continue reading to find out more…
The origins of the ceremony
Trooping the Colour is an annual ceremony held in June to celebrate the official birthday of the British Sovereign, originating as far back as 260 years ago.

The service was first believed to have been performed during King Charles II's reign, however it wasn't until 1760 that it became an annual event to commemorate the British Monarch's official birthday under the reign of King George III.

This historical parade was named in tribute to the British Army's regiment flags, which are referred to as 'Colours' due to the different coloured insignia displayed on each one. Young officers would then march the Colours between the line of troops, giving us the 'Trooping the Colour' title, and the colourful celebration we still see to this day.
The British Sovereign's Official Birthday
But why does the British Sovereign have an official birthday?

The answer to having two birthdays is simply down to British weather being better for the parade in the month of June.

Unless the Monarch already has a summer birthday, their second 'official' one will always be in June to line up with when Trooping the Colour takes place and to maximise the chances of good weather conditions.

So, although King Charles III's actual day of birth is 14th November, he will be celebrating his very first King's Birthday Parade on 17th June this year.
What to expect on the day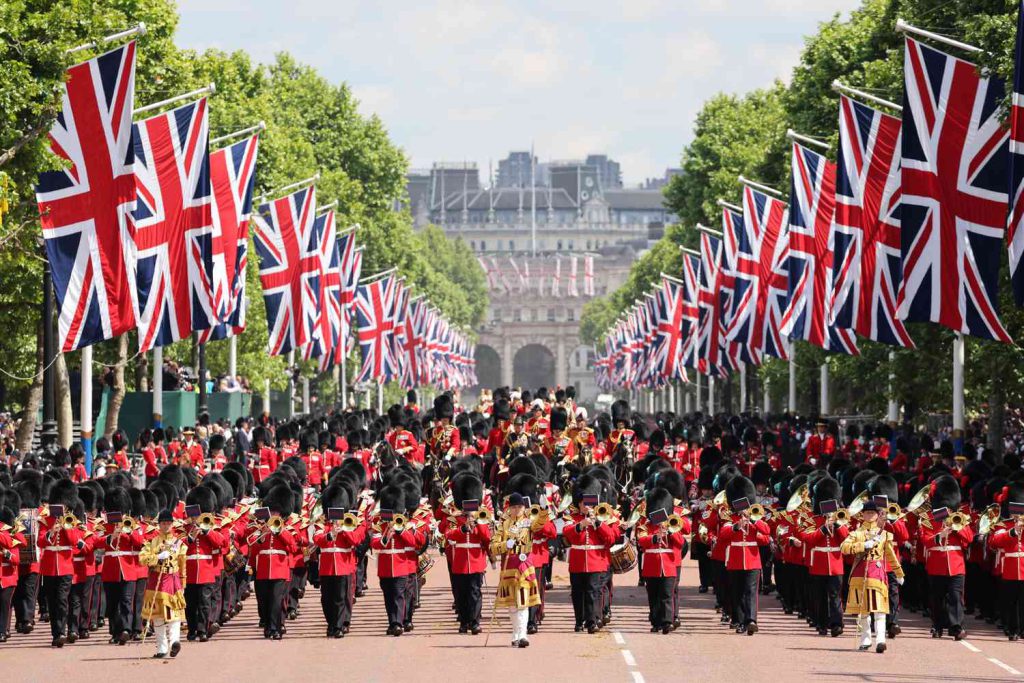 On the day, you can expect to see an impressive display of pageantry as His Majesty's personal troops march down The Mall from Buckingham Palace to Horse Guards Parade, where the ceremony will begin.

There will be over 1400 parading soldiers, 400 musicians and 200 horses, alongside members of the Royal Family on horseback or in carriages – and of course, with King Charles III himself taking the salute.

As the procession takes place, mass crowds with waving flags are expected to line the streets, with many more around the world viewing the spectacle on television.

And with this year's Trooping the Colour ceremony being King Charles III's FIRST as Sovereign, it will certainly be a historical event to remember.
The Trooping the Colour 2023 Silver Coin Cover
To commemorate this special occasion, we have released the Trooping the Colour 2023 Silver Coin Cover in ode to Charles III's King's Birthday Parade.
Featuring His Majesty's first Silver Britannia coin alongside his first Royal Mail definitive stamps, this Cover will have a one-day-only postmark of 17th June 2023 – a fitting tribute to the first Trooping the Colour of King Charles' reign.

But with only 200 available worldwide, make sure to secure yours now by clicking here >>
Today, Royal Mail have revealed their brand-new Coronation stamps. Comprised of four stamps, the official Coronation Miniature Sheet pays tribute to four elements of King Charles III's legacy.
And following the insatiable demand we have already seen this week for The Royal Mint's Coronation range, collectors are desperate to pair their coin with the official Coronation stamps!
That's because, on 6th May, we will mark the biggest royal event in decades.
So, why not kick off the celebrations with an exclusive combination of numismatic and philatelic history?
Read on to learn more about the stamps themselves, and how you can secure all four in an exclusive presentation alongside some of the UK 2023 Coronation coins…
The Design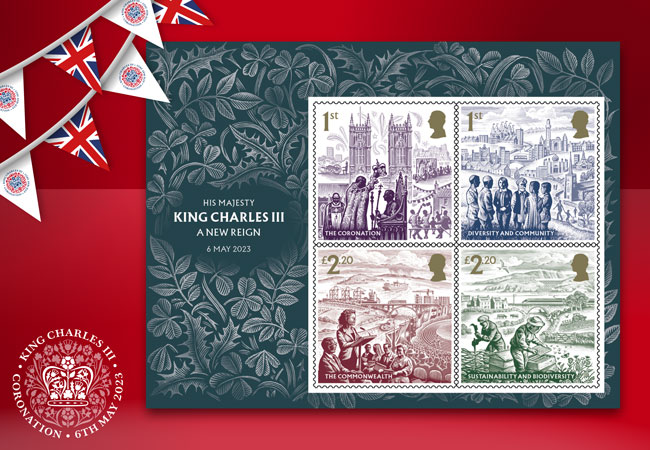 Designed by British artist, Andrew Davidson, Royal Mail's official Coronation Miniature Sheet symbolises four elements of King Charles' legacy.
Each stamp has been divided into representations of the Coronation, Diversity and Community, The Commonwealth, and Sustainability and Biodiversity. The designs embody themes of heritage, tradition, cohesion, democracy, peace, and nature – integral values to His Majesty.
These stamps have been thoughtfully set against a design of intermingling foliage, representing the union of the four UK countries: the rose, thistle, daffodil, and shamrock.
UK 2023 Coronation Covers
And today, we have been able to present all four of these official UK Coronation stamps in limited edition covers.
Paired alongside the UK 2023 Coronation 50p, £5, or both, you can secure the Coronation Miniature Sheet beside The Royal Mint's new coins in either Brilliant Uncirculated or Silver Proof!
Or, you can get your hands on the extremely sought-after UK 2022 Memorial Sovereign – the first to feature His Majesty – in an exclusive cover with these stunning new Coronation stamps.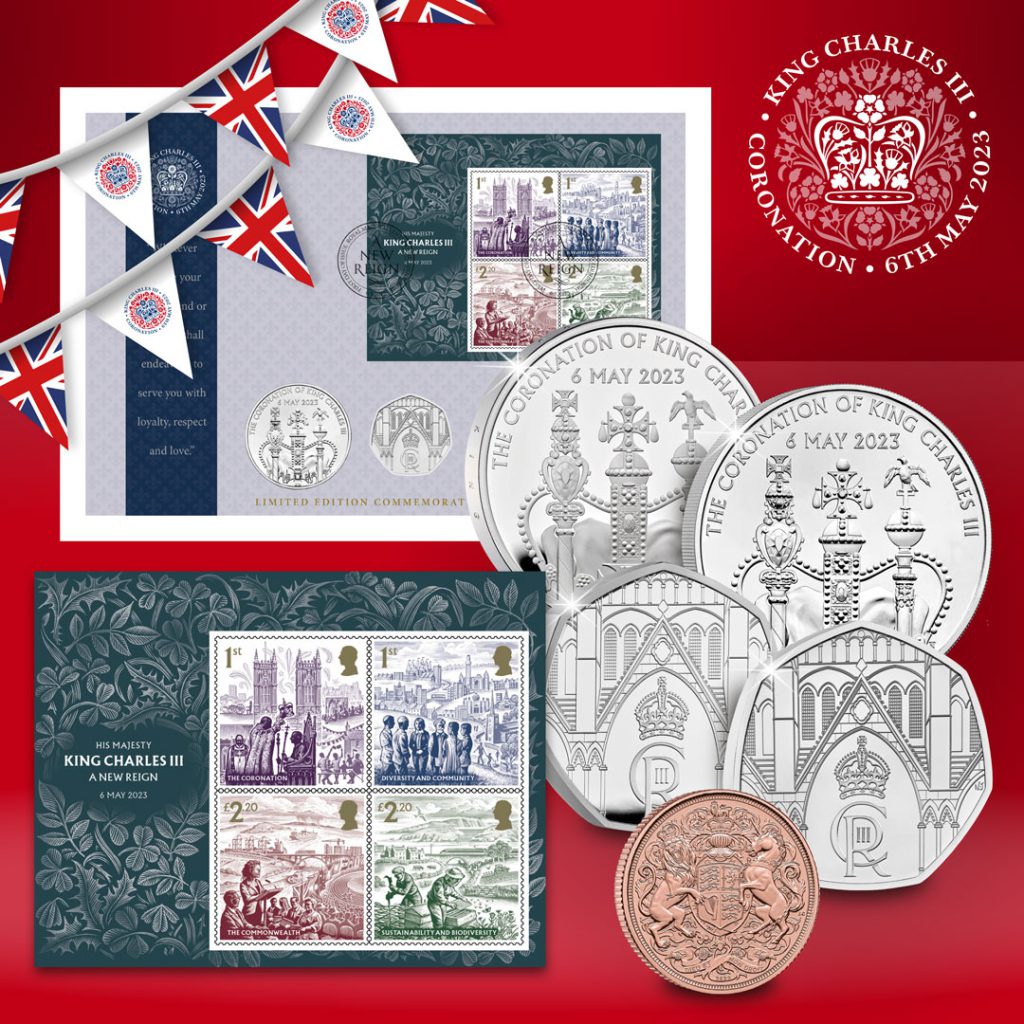 These limited edition covers are the perfect way to capture this poignant moment in history. In fact, they have all been postmarked by Royal Mail on the date of His Majesty's Coronation – 6th May – which truly preserves this extraordinary historical feat and ensures no more can ever be made…
Extreme Demand for Coronation Coins
When The Royal Mint launched the UK 2023 Coronation coin range on the 24th April, nothing could have prepared collectors for the insatiable demand…
Nearly 70,000 people queued for the launch, and the Coronation coins were being snapped up within minutes.
So considering this could be your last chance to secure a UK 2023 Coronation coin, you don't want to miss out on these exclusive coin covers.
Click here to explore the range, with prices starting from £39.99 >>
In just over a week's time, The Open — the oldest golf tournament in the world — tees off. And this year, there are a couple of extra reasons to celebrate.
Firstly, this is the 150th Open Championship. The first was held way back in 1860 so this year's trophy — the famous Claret Jug — will be even more sought after amongst the players, including Rory McIroy and recent US Open winner Matt Fitzpatrick.
But it's not only the golfers who have something to aim for. Because to celebrate the 150th Open, a brand new range of commemoratives have been issued.
So, as you can imagine, with thousands of coin collectors and now thousands of UK golf fans, getting hold of one of these brand new commemoratives will be a prize in itself.
Keep on reading to find out more…
NEW Round Pound released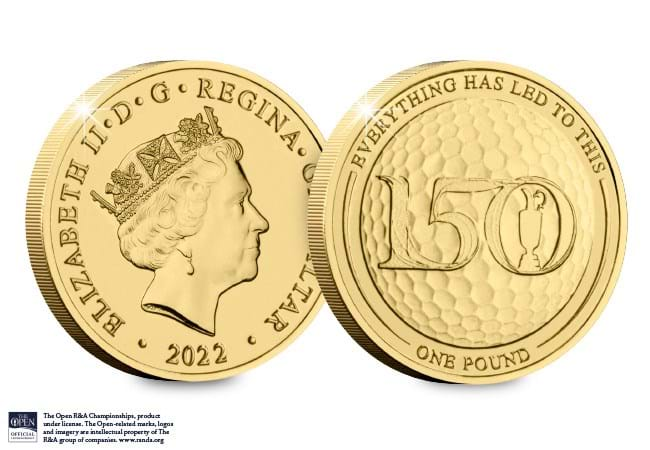 It's been 6 years since the round pounds were phased out and replaced by the new 12-sided coin, marking the end of an era for UK coinage. But today it has returned for a very special occasion.
Specially struck for 2022 only and fully approved by The R&A — the home of British Golf — this new Round Pound has been issued by the Government of Gibraltar to celebrate The 150th Open Championship.
Unlike the UK, you can still find round pounds in circulation in Gibraltar. They're used daily as part of their currency so it's not uncommon to find them in your change over there. We don't yet have confirmation on whether this coin will enter circulation in Gibraltar, but if it does — that will increase the collectability even more.
Make sure you mark this special occasion by securing your very own 'The 150th Open Gibraltar Round Pound' today for JUST £9.99 (+p&p).
The STRICTLY LIMITED Silver Proof Round Pound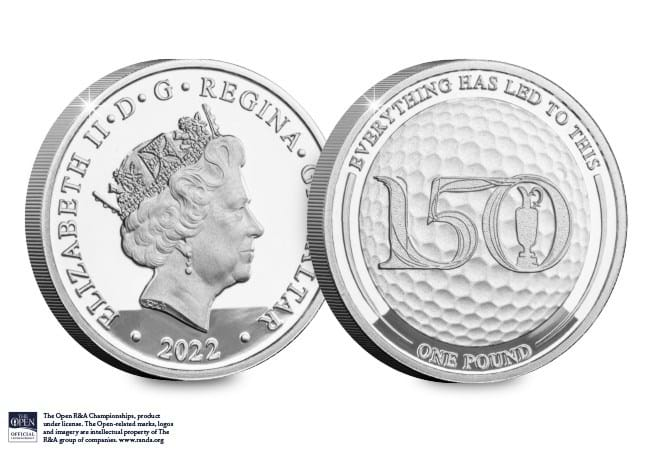 Exclusive to The Westminster Collection, The 150th Open Silver Proof Round Pound is strictly limited to JUST 500 editions.
This incredibly low edition limit makes The 150th Open Silver Proof coin 22 times RARER than the last UK Silver Proof Round Pound issued in 2016, which had a mintage of 11,000 and completely sold out at the Royal Mint.
Struck to a pristine Silver Proof finish, reservations for this striking coin are being taken on a first come first served basis.
You can secure yours today with a £16 deposit (+p&p) – Click here now >>
The 150th Open Silver 5oz Domed Commemorative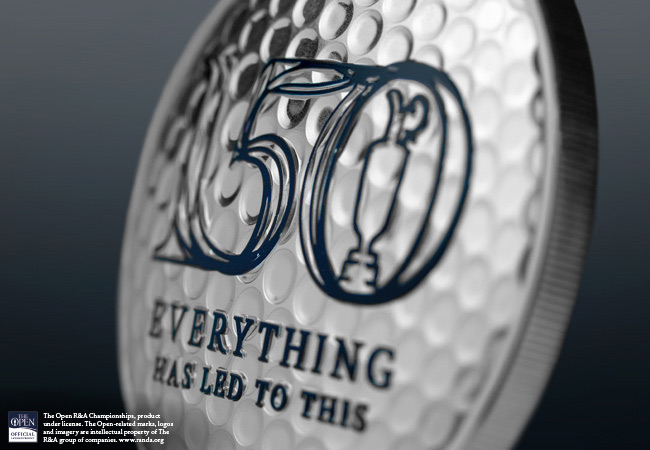 If you're looking for the ultimate collectable within the range, then look no further. We are thrilled to introduce The 150th Open Silver 5oz Domed Commemorative which is extremely limited to just 150 collectors worldwide.
This striking piece has been struck from 5oz of .999 Fine Silver and features a remarkable 3D high-relief domed effect that mimics the appearance of a golf ball.
The detailed domed relief features The 150th Open logo with the brand line 'Everything has led to this'. You really do have to see the coin in person to admire its full craftmanship.
In recent years, domed commemoratives have taken the collecting world by storm. When the US Mint released their domed coin to commemorate the 50th anniversary of the Moon landings, 296,311 sold on launch day alone — that's 206 coins a minute!
That's why only the quickest 150 collectors will be able to secure this commemorative for their collection.
If you'd like to find out more about this incredible commemorative and how you can secure yours, click here >>
NEW Coin and Stamp Cover strictly limited to JUST 495 collectors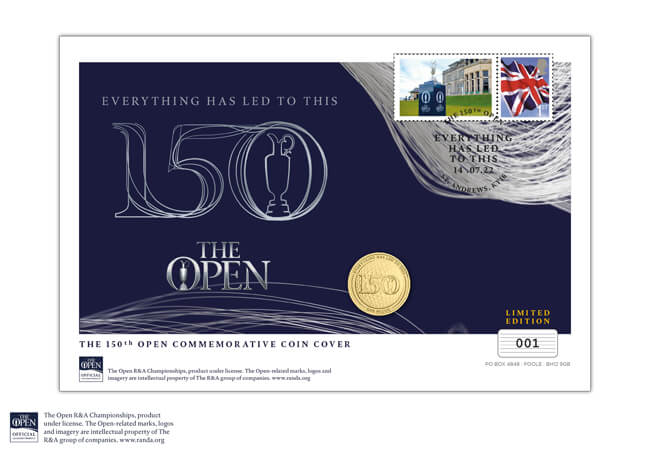 Today you can own this striking coin cover, combining the brand new Brilliant Uncirculated Round Pound alongside the Official Royal Mail The 150th Open Philatelic labels.
Officially postmarked on 14th July, 2022, this one-day-only postmarking means that no more can ever be produced after this day… and with an edition limit of JUST 495, please don't hesitate.
Click here to 'pre-order' yours >>
The 150th Open Silver Round Pound Coin Cover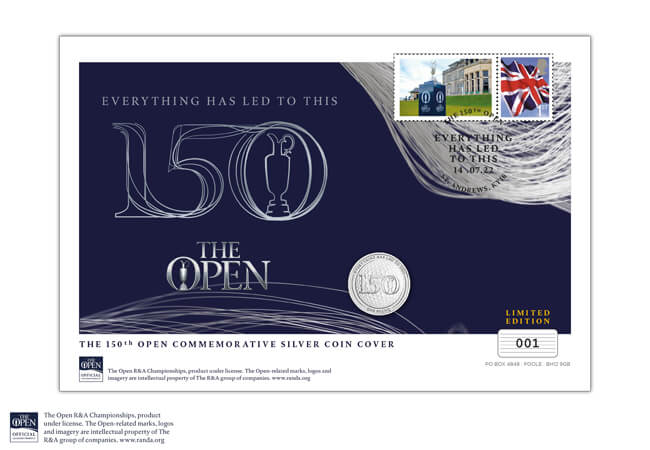 Importantly, this Edition Limit is less than HALF that of the 2022 The 150th Open Gibraltar Silver Proof £1 Coin that has just been released.
Officially postmarked on 14th July, 2022, JUST 195 Silver £1 Coin and Stamp Covers are available WORLDWIDE. Once they're all gone, no more can ever be produced.
Pre-order yours now to avoid disappointment >>
---
If you'd like to browse the full range of The 150th Open Commemoratives, click here >>