Posts Tagged 'Numismatic treasure'
The Stories of British Coins Collection includes 16 of the most remarkable coins from over 200 years of British history, but many of them are in high demand and difficult to source, especially those which are historic artefacts in their own right!
Join Adam as he unboxes a fascinating coin collection that together tells the story of Britain.
---
Find out more and add the set to your collection by clicking here >>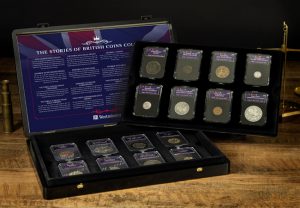 Discover the journey of the crown coin and how it became the UK's flagship £5 commemorative coin…
For more information about the history of the crown coin click here.
Click here to download your own printable version of The History of the Crown Coin.
Last week a 50p coin that many thousands of people have found in their daily pocket change started to be sold on e-Bay for prices upward of £100.00. Or to put it another way, 200 times its actual value!
It was all because the Royal Mint announced that the Kew Gardens 50p coins is the UK's most scarce circulation coin, with just 210,000 pieces ever been placed into circulation. The result was a media storm and the inevitable overnight ramping of prices.
Half the circulation of the Kew Gardens 50p
But what few people realise is that there is an even rarer UK 50p piece that was issued in half the number of the Kew Gardens coin – just 109,000 coins.
The coin was issued in 1992 to mark the EC Single Market and the UK presidency of the Council of Ministers – perhaps not the most popular of topics, which maybe was the reason so very few were pushed out into circulation. But of course, its lack of popularity at the time, is the very thing that now makes its Britain's rarest 50p coin.
Sadly, however hard you search, unlike the Kew Gardens 50p, you will not find this one in your change. That's because it is one of the old-sized 50p coins that were demonetised in 1998.
The coin itself was designed by Mary Milner Dickens and pictures the UK's place at the head of the Council of Ministers' conference table. The stars represent each of the nations' capital cities placed in their relative geographical position.
But it won't be the coin's clever design that will guarantee its numismatic interest for years to come. It is its status as the UK's most rare circulation 50p is what will intrigue collectors and have them searching and saving up in years to come.
---
Are you interested in owning the UK's rarest 50p coin?
Limited stocks of the 1992 EC 50p coin are available from The Westminster Collection for £20.
NOW SOLD OUT