Today is a very significant day in aviation history! The iconic Concorde jet, renowned for its supersonic speed and luxury, bid its final farewell on October 24, 2003. This last commercial passenger flight G-BOAG took off from New York City's John F. Kennedy International Airport, soaring through the skies at twice the speed of sound, and touching down at London's Heathrow Airport.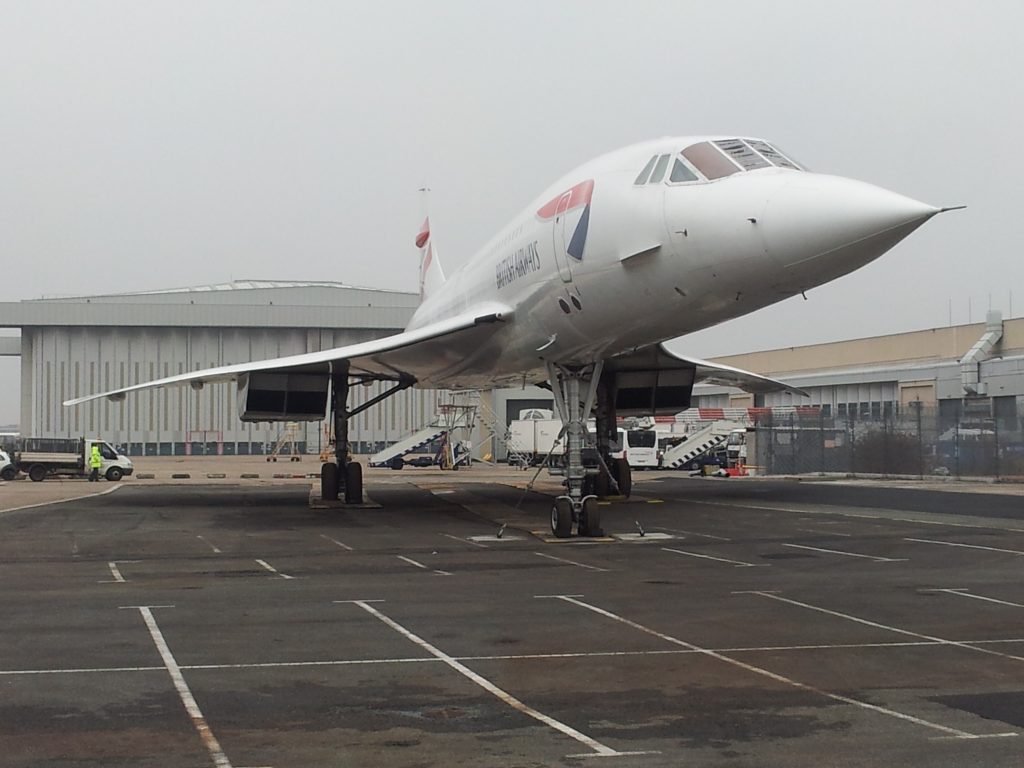 On board were 100 passengers, including famous personalities and an adventurous Ohio couple who had secured two tickets on eBay for a staggering $60,300.
This final journey marked the end of an era, as the typical roundtrip trans-Atlantic fare, which cost around $9,000, was now history. Simultaneously, other Concorde flights embarked on their last voyages from Edinburgh and the Bay of Biscay, drawing large crowds of spectators.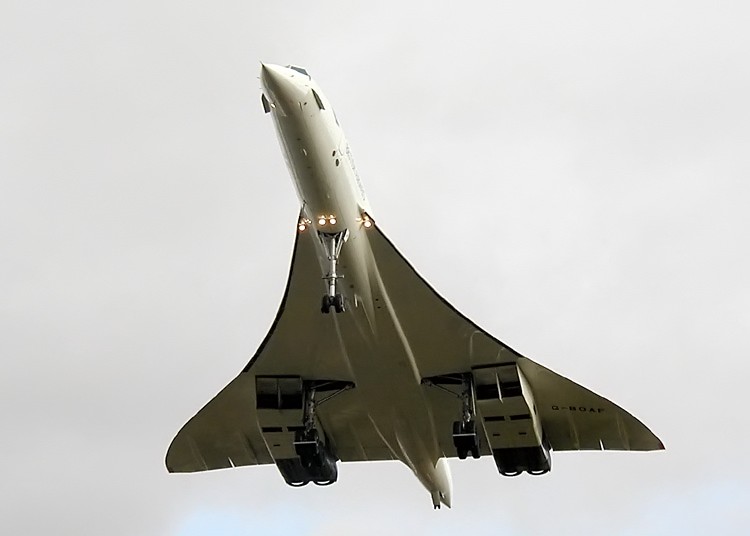 Concorde's Legacy
Concorde, a marvel of British and French joint innovation, took to the skies in January 1976 for its first commercial flight. It represented a significant leap in aviation technology and design, and its sleek, delta-winged design enabled it to complete the transatlantic journey between New York and London in a mere three and a half hours, cruising at an astonishing speed of 1,350 miles per hour. Concorde was more than just a means of travel, it was an emblem of speed and luxury, captivating the world's imagination.
Challenges faced by Concorde
Despite its iconic status, Concorde was not without its challenges. Some individuals living under its flight path criticised the substantial noise it generated, disrupting their everyday lives. Tragically, a dark chapter in Concorde's history unfolded on July 25, 2000, when an Air France jet crashed shortly after take-off from Paris. This catastrophic incident claimed the lives of all 109 people on board, as well as four others on the ground. Following the crash, all Concorde flights were suspended for over a year, with investigations, safety checks, and improvements taking place.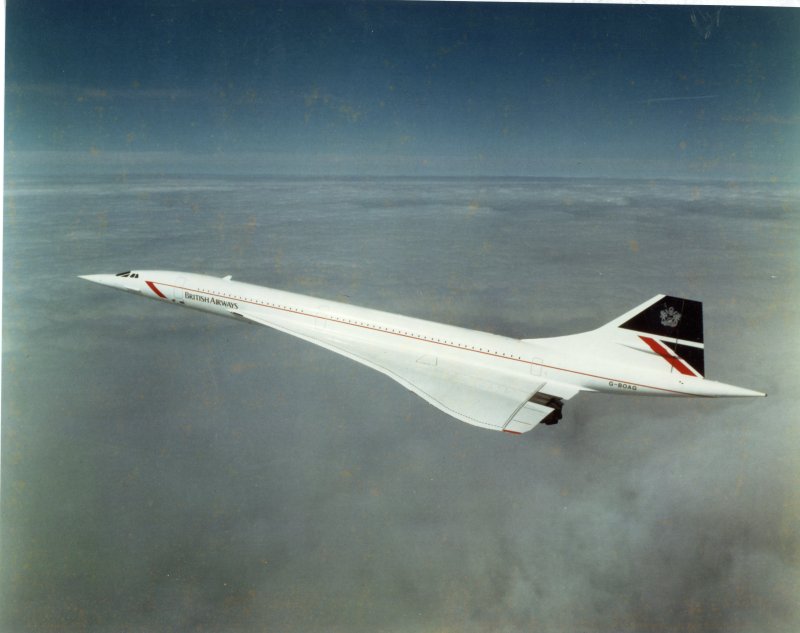 The final commercial flight of Concorde on October 24, 2003, marked the end of an era in aviation. This iconic jet, born from international collaboration, redefined the possibilities of air travel with its incredible speed and luxury. While Concorde had its share of challenges, including noise complaints and a tragic accident, it remains an iconic symbol of human ingenuity and ambition. Concorde's legacy lives on, reminding us of the thrill of pushing the boundaries of what is possible in the skies.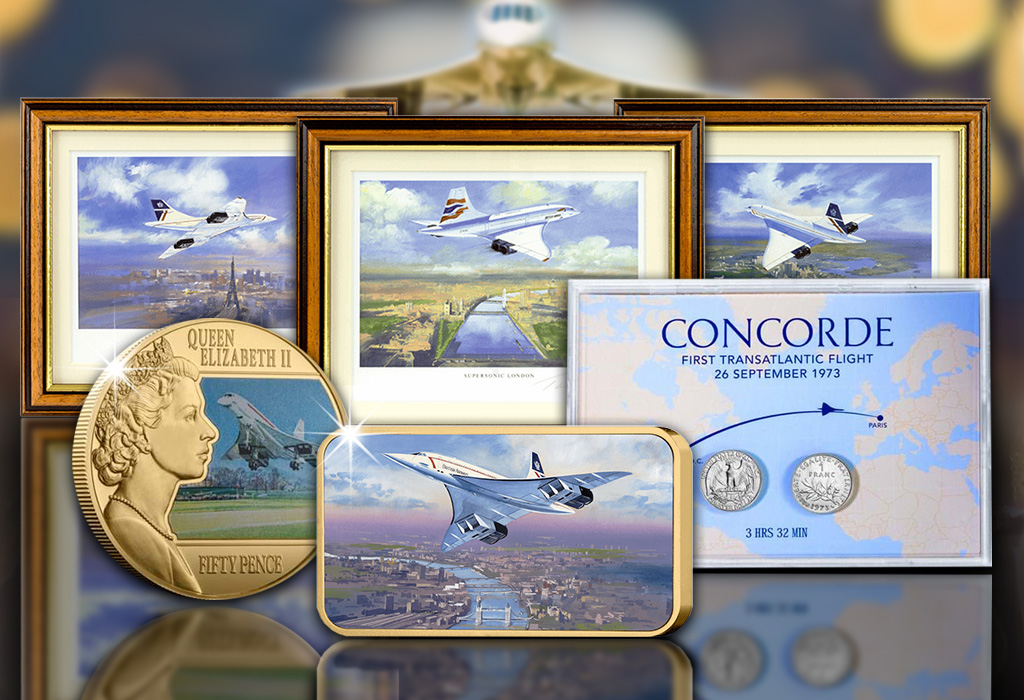 To mark this significant day in aviation history and to celebrate the legacy of this legendary supersonic jet, we have curated a special range over the years for our collectors. Featuring Gold plated coins, Signed framed prints and Limited edition ingots, our Concorde Collectables range has something for everyone – See our Concorde Collectables range by clicking here.
On 14th June, Ben, our Concept Development Manager, had the opportunity to see the famous RAF Avro Lancaster up close and personal.
Here's what Ben has to say about his experience retracing the steps of the legendary Dambusters and having the brand new £5 coins carried on board an original WWII Lancaster Bomber…
---
To mark the 80th anniversary of Operation Chastise – the legendary Dambusters Raid, I wanted to capture some of that history and somehow apply it to some of the superb coins issued for the anniversary.
Following is my story of how our one day in Lincolnshire panned out. A story that makes each of these coins – in my opinion – uniquely collectable. Here's how it went…
I have come to rural Lincolnshire to a private museum and airstrip at the Lincolnshire Aviation Heritage Centre in East Kirkby, to take some of the Dambusters 80th Anniversary Coins on a ride of a lifetime.
But before that happened, it was an overnighter in a remarkable hotel, few know about. This part of the English countryside is awash with airfields, aircraft museums and RAF bases.
It was central to RAF and Bomber Command's missions and in 1944 the skies would have been buzzing with Spitfires, Hurricanes and of course, Lancaster Bombers. And that's why the hotel I stayed in has some fascinating Dambusters links.

The Petwood Hotel was where Wing Commander Guy Gibson and the hand picked 617 Squadron had billeted during the war.
The squadron bar is now a museum shrine to the history of the squadron featuring artwork, photos and cabinets full of authentic 617 memorabilia. This is the exact room where Guy Gibson would have had a pint with his colleagues, as they discussed their missions past and present.
There is even a genuine prototype Bouncing Bomb in the garden…
It's a remarkable feeling to know you're sat at the very bar they did.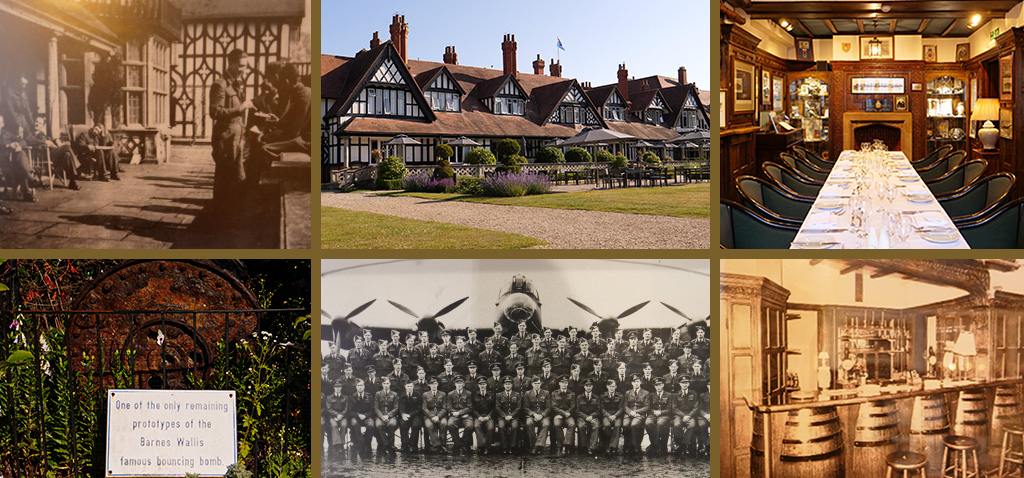 After an evening at the bar, it was up bright and early to head to the Lancaster Aviation Heritage Centre. And it was here as I drove through the gates, I got my first glimpse of 'Just Jane', one of only FOUR operational Lancaster bombers in the entire world.
Technically known as Avro Lancaster B. VII NX611, she was one of 150 Lancasters built in early 1945 for operations in the Far East.
She's had a varied history. In the 1970s she stood as the Gate Guardian at RAF Scampton (home of Vulcan bombers and more recently, The Red Arrows) before being sold privately and moved to her current home in 1987. She is now a fantastic piece of aviation history, and the ongoing restoration program means hopefully soon we will see her take to the skies once more.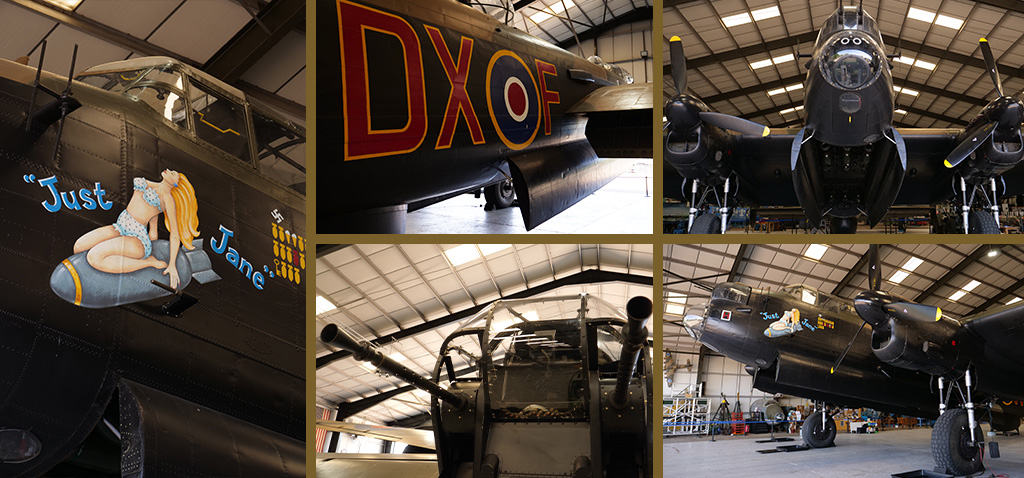 It was a beautiful sunny day, as I arrived at the airfield early in the morning to get the coins onboard. She was still in her hangar alongside the De Havilland Mosquito and a B25 Mitchell.
Before the Lanc was fired up – the main part of our mission started. We were given permission to board and get the coins securely stashed. This in itself was a privilege, reserved usually for visitors who book the tour and the ride, something that gets booked up a year in advance.
Despite its size, there is not a lot of room inside a Lancaster for boxes of coins!
There's barely room for people, and only once you are inside do you contemplate how it must have felt when heading on a bombing mission. It's dark, cramped, and once you are in position, there's no moving. With the engines running I imagine it is exceptionally loud.
The coins were loaded in with help from the crew who work at the LAHC, and I had a short amount of time to photograph them inside the plane before she was moved outside and prepared for the day's events.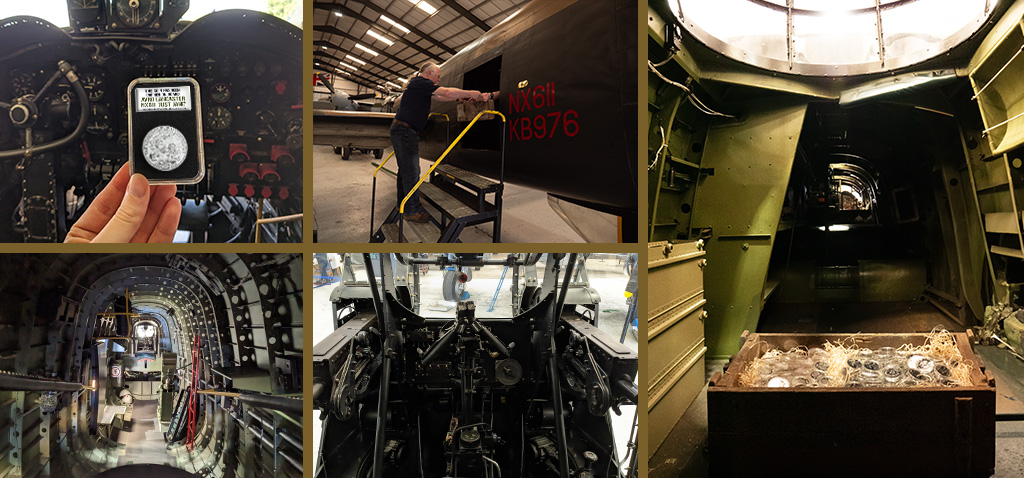 Then the magic happened.
As the four huge Merlin engines spluttered into life, a deafening roar bellowed across the tarmac, debris flew across the airfield as the wind seemed to pick up as we stood in awe. Lancaster Bomber NX611 made her way along the tarmac and onto the grass airstrip, where the engines kicked up a few notches.
It really is a sight to behold. And there we had it, coins travelling on board a piece of aviation history in the anniversary year of the Lancaster's most famous moment – adding to their own provenance forever.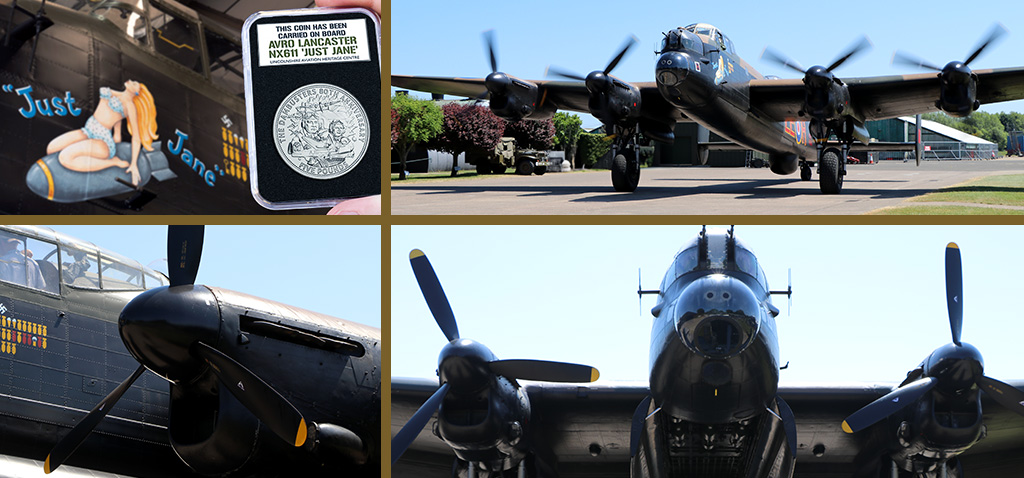 As the Lanc returned, the coins having been onboard a few hours, I had a five-minute window between runs to get onboard, remove the coins and stack them up on the airfield.
She had another group of guests to take for a ride. She wasn't going to wait for us, and I wasn't going to get in her way. It was a day I shall never forget. And thankfully, these coins now act as a lasting reminder of this epic and historic occasion.
---
If you're interested…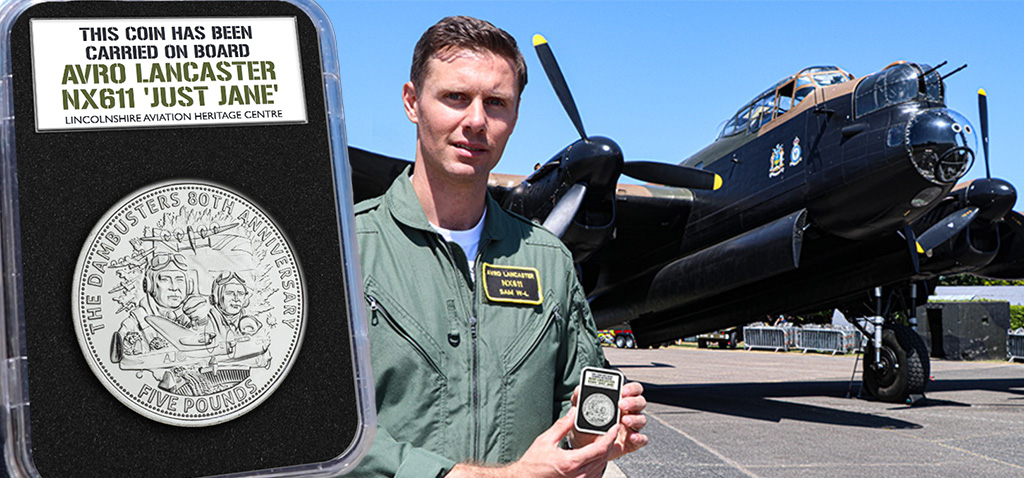 Click here to secure your Lancaster NX611 CARRIED Dambusters £5 for JUST £25 (+p&p) >>
---
Last month, I had a fantastic opportunity to get up close and personal to one of the world's most famous aircraft – the Spitfire!
The iconic Supermarine Spitfire was critical in defeating Luftwaffe air attacks during the Battle of Britain in 1940, and so to mark the 80th anniversary this year, I knew we had to arrange something unique to produce a truly special collectable coin worthy of the historic anniversary.
So on the 23rd July I drove up to the historic Duxford Aerodrome to have 1,000 brand new Proof £5 coins flown in an original WWII Spitfire.
Now the purpose of my visit was to have 1,000 Official Battle of Britain £5 coins flown in an original WWII Spitfire, but I was also able to talk to RAF Flight Lieutenant Antony 'Parky' Parkinson in great detail about his time in the RAF and as an ex-Red Arrow ahead of the Battle of Britain anniversary. You can see Parky discussing his career and the Spitfire in the video below…
Before Parky took the 'NH341' Spitfire to the air, I helped him secure the 1,000 Battle of Britain Spitfire £5 coins into the wing bays which would have once held the fighter plane's armaments while defending Britain in the skies 80 years ago. The space in the wing bays is extremely limited, hence the limited number of coins that were able to be taken to the sky.
Standing within a few feet as the famous Rolls Royce engine fired up, I watched in awe as the elegant, agile aircraft taxied along the runaway and gracefully took to the skies.
Although many 80th anniversary plans up and down the country have had to be cancelled, I am delighted to be able to give a limited number of collectors the opportunity to become the proud owner of the BRAND NEW Official Proof £5 coin that has been flown in an original WWII Spitfire plane. But that's not all, as I was also able to arrange for them to be personally hand-signed by Parky.
The brand new Spitfire £5 coin is a fantastic commemoration of the famous plane and I am grateful that I had the opportunity to mark the 80th anniversary of the Battle of Britain with such a fitting tribute.
So I'm sure you can appreciate what a genuinely rare collectable these will instantly become and demand is expected to exceed availability. If you wish to secure one for your collection, you need to act quickly by clicking here.
Thank you to Flight Lieutenant Antony Parkinson MBE and the rest of the team at Aerolegends for helping to take the Spitfire £5 coins to the sky and for giving me the opportunity to see this famous warbird in the flesh.
---
If you're interested, you'll need to be quick as over 50% have already been reserved. You can secure the Official Battle of Britain Proof £5 coin now for JUST £35 by clicking here >>
And remember, not only will your official Battle of Britain £5 Proof coin have been flown in an original WWII Spitfire, it is also one of just 1,000 coins that have been personally signed by Lieutenant Antony Parkinson 'Parky', MBE.