Posts Tagged 'dambusters £5'
On 14th June, Ben, our Concept Development Manager, had the opportunity to see the famous RAF Avro Lancaster up close and personal.
Here's what Ben has to say about his experience retracing the steps of the legendary Dambusters and having the brand new £5 coins carried on board an original WWII Lancaster Bomber…
---
To mark the 80th anniversary of Operation Chastise – the legendary Dambusters Raid, I wanted to capture some of that history and somehow apply it to some of the superb coins issued for the anniversary.
Following is my story of how our one day in Lincolnshire panned out. A story that makes each of these coins – in my opinion – uniquely collectable. Here's how it went…
I have come to rural Lincolnshire to a private museum and airstrip at the Lincolnshire Aviation Heritage Centre in East Kirkby, to take some of the Dambusters 80th Anniversary Coins on a ride of a lifetime.
But before that happened, it was an overnighter in a remarkable hotel, few know about. This part of the English countryside is awash with airfields, aircraft museums and RAF bases.
It was central to RAF and Bomber Command's missions and in 1944 the skies would have been buzzing with Spitfires, Hurricanes and of course, Lancaster Bombers. And that's why the hotel I stayed in has some fascinating Dambusters links.

The Petwood Hotel was where Wing Commander Guy Gibson and the hand picked 617 Squadron had billeted during the war.
The squadron bar is now a museum shrine to the history of the squadron featuring artwork, photos and cabinets full of authentic 617 memorabilia. This is the exact room where Guy Gibson would have had a pint with his colleagues, as they discussed their missions past and present.
There is even a genuine prototype Bouncing Bomb in the garden…
It's a remarkable feeling to know you're sat at the very bar they did.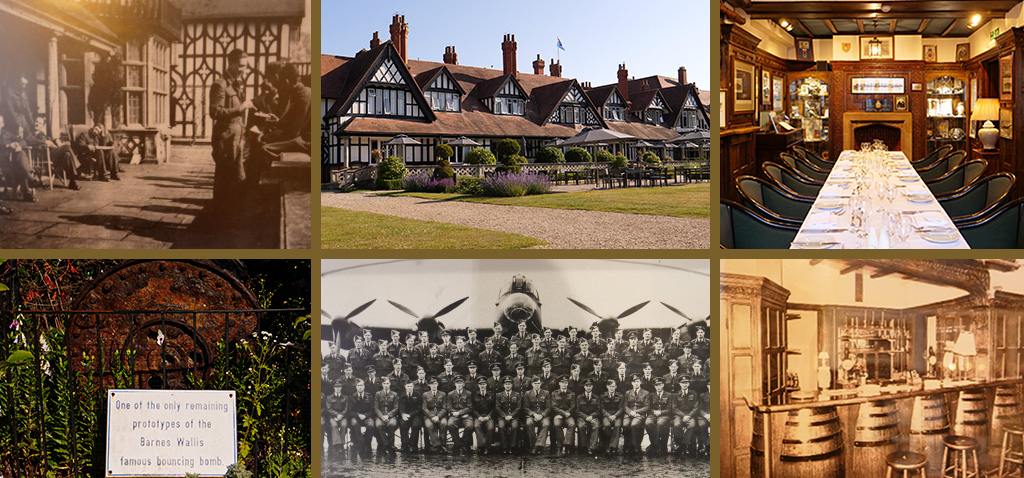 After an evening at the bar, it was up bright and early to head to the Lancaster Aviation Heritage Centre. And it was here as I drove through the gates, I got my first glimpse of 'Just Jane', one of only FOUR operational Lancaster bombers in the entire world.
Technically known as Avro Lancaster B. VII NX611, she was one of 150 Lancasters built in early 1945 for operations in the Far East.
She's had a varied history. In the 1970s she stood as the Gate Guardian at RAF Scampton (home of Vulcan bombers and more recently, The Red Arrows) before being sold privately and moved to her current home in 1987. She is now a fantastic piece of aviation history, and the ongoing restoration program means hopefully soon we will see her take to the skies once more.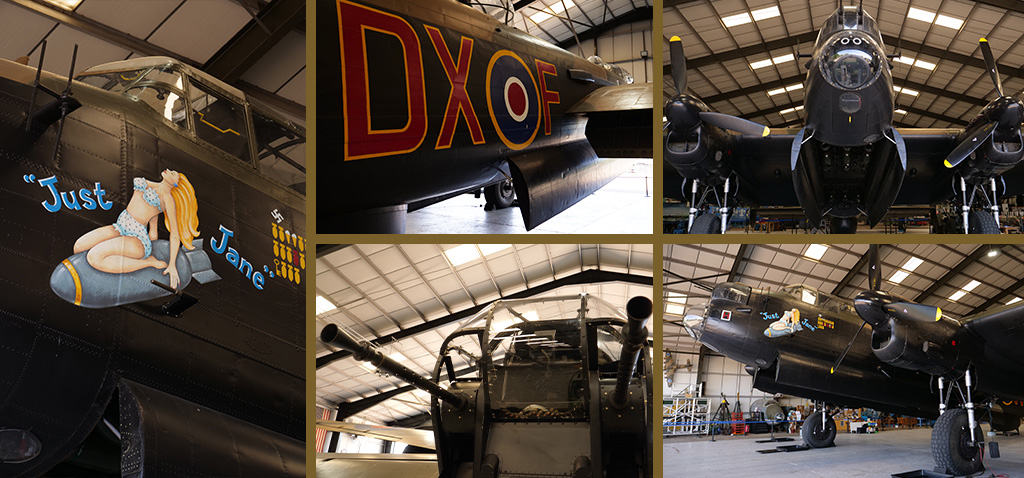 It was a beautiful sunny day, as I arrived at the airfield early in the morning to get the coins onboard. She was still in her hangar alongside the De Havilland Mosquito and a B25 Mitchell.
Before the Lanc was fired up – the main part of our mission started. We were given permission to board and get the coins securely stashed. This in itself was a privilege, reserved usually for visitors who book the tour and the ride, something that gets booked up a year in advance.
Despite its size, there is not a lot of room inside a Lancaster for boxes of coins!
There's barely room for people, and only once you are inside do you contemplate how it must have felt when heading on a bombing mission. It's dark, cramped, and once you are in position, there's no moving. With the engines running I imagine it is exceptionally loud.
The coins were loaded in with help from the crew who work at the LAHC, and I had a short amount of time to photograph them inside the plane before she was moved outside and prepared for the day's events.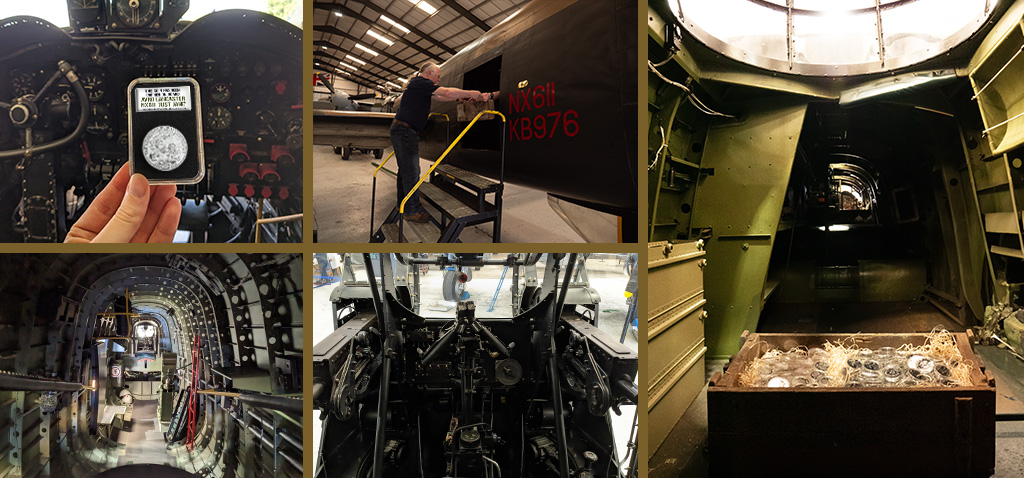 Then the magic happened.
As the four huge Merlin engines spluttered into life, a deafening roar bellowed across the tarmac, debris flew across the airfield as the wind seemed to pick up as we stood in awe. Lancaster Bomber NX611 made her way along the tarmac and onto the grass airstrip, where the engines kicked up a few notches.
It really is a sight to behold. And there we had it, coins travelling on board a piece of aviation history in the anniversary year of the Lancaster's most famous moment – adding to their own provenance forever.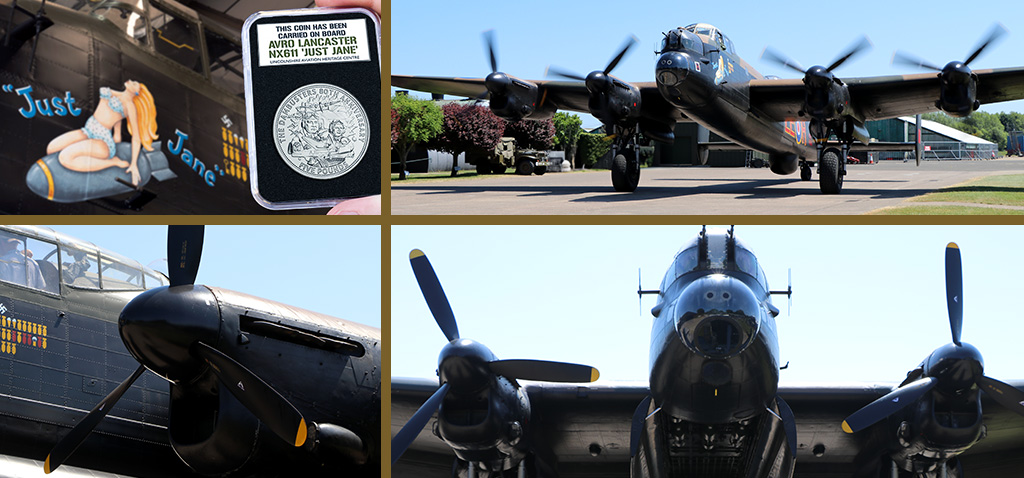 As the Lanc returned, the coins having been onboard a few hours, I had a five-minute window between runs to get onboard, remove the coins and stack them up on the airfield.
She had another group of guests to take for a ride. She wasn't going to wait for us, and I wasn't going to get in her way. It was a day I shall never forget. And thankfully, these coins now act as a lasting reminder of this epic and historic occasion.
---
If you're interested…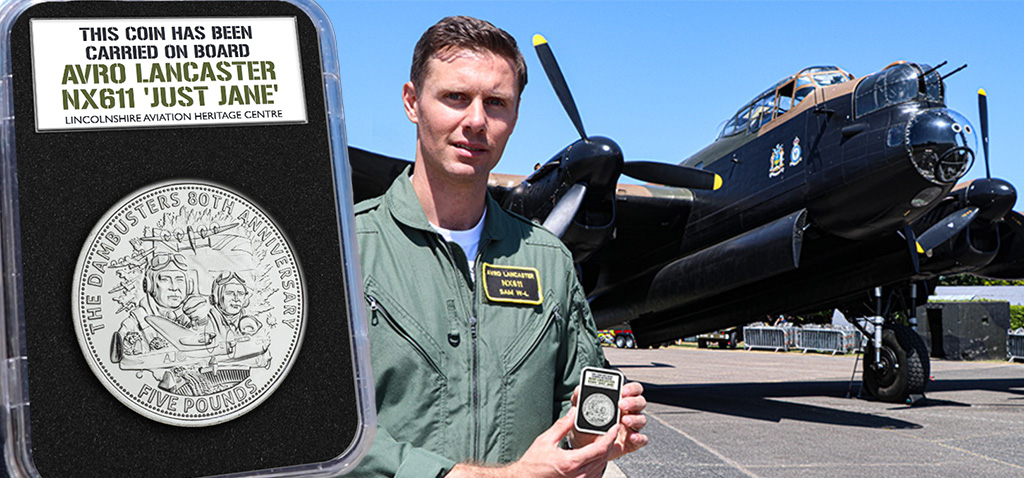 Click here to secure your Lancaster NX611 CARRIED Dambusters £5 for JUST £25 (+p&p) >>
---
This year marks the 80th Anniversary of the Dambusters Raid, one of the most famous air operations of World War II and an example of Great Britain's daring wartime ingenuity.
The operation involved 133 heroic RAF crew flying 19 Avro Lancaster planes – the magnificent WWII bomber that delivered Barnes Wallis' astonishing "bouncing bombs".
And now, 80 years on, a spectacular range of British Isles coins have been authorised to honour this legendary chapter in RAF history.
Each coin commemorates that audacious midnight raid on Germany's Ruhr Valley dams in May 1943, arguably one of the turning points that led to British Victory in World War II.
View the coins below and all the information you'll need to order your favourites.
---
ONLY available from The Westminster Collection: The Dambusters 80th Anniversary £5 Pair
Exclusively available from The Westminster Collection, The Dambusters 80th Anniversary £5 Pair has been issued by Jersey and Guernsey and fully approved by Buckingham Palace.
Featuring specially commissioned designs by David Lawrence, both coins are struck to a pristine Proof finish and housed in a presentation case with Certificate of Authenticity. What's more, a strict worldwide edition limit of ONLY 4,995 has been set.
---
The Limited Edition Silver Proof Collector Set – own it today with JUST £29.50
This STRICTLY LIMITED Collector Set includes two British Isles Silver Proof £5 Coins that have been fully approved by Buckingham Palace, alongside a Sterling Silver Proof Commemorative.
Importantly, this is the ONLY way you can own the Dambusters 80th Anniversary Silver Commemorative – it will never be released individually.
A strict edition limit of JUST 750 has been authorised for release worldwide.
This makes the coins more than 16 times RARER than the UK's most recent Silver Proof £5 that completely SOLD OUT of 12,500 coins in a matter of days. So, you can see why this new collection is so significant and why so many collectors will miss out…
---
Demand will outweigh availability – JUST 195 Prestigious Silver 5 Ounce Coins issued
Struck from FIVE ounces of 99.9% Pure Silver and hand-polished to a pristine Proof finish, the reverse design is inspired by the classic movie poster for 'The Dam Busters' and features Wing Commander Guy Gibson alongside the legendary Avro Lancaster Planes.
With its complex and sophisticated process of production, the 5oz Coin is one of the most extravagant and demanded in the world of numismatics. A strict worldwide edition limit of JUST 195 has been set and so demand will outweigh availability.
---
Impressive 100mm diameter 10oz Silver Coin – JUST 55 WORLDWIDE
This HUGE 100mm diameter coin has been struck from 10oz of 99.9% Pure Silver and hand polished to a pristine Proof finish. Due to the size of the surface, this coin allows collectors to appreciate the smallest details of the design.
The coin comes housed in a special collector case with numbered Certificate of Authenticity. With ONLY 55 being released worldwide, it is one of the rarest issues in the Dambusters range and will be highly sought after by collectors.
Click here to find out more >>
---
If you're interested…